Economics
What's on the Table in the Euro Overhaul
European Union leaders will meet in Brussels on Dec. 15 to lay out a road map for euro zone reform.
By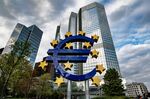 The euro has survived numerous trials in recent years, including the bailout of 5 of the currency union's 19 members and a near-exit by Greece. The Maastricht Treaty that underpins the common currency is 25 years old, so there's support in many European capitals for a reboot. European Union leaders will meet in Brussels on Dec. 15 to lay out a road map for euro zone reform. Here's a look at the most important ideas on the table.
Euro Budget and Euro Finance Minister
The proposal: The idea is to build a pool of money that countries could tap during periods of economic or financial stress—for instance, to boost investment in a downturn. Access to the funds, which may be administered by a euro finance minister (a new position), could be contingent on states adhering to the bloc's rules on deficits and debt.
The politics: French President Emmanuel Macron is a champion, and German Chancellor Angela Merkel is supportive, but the two may differ on details. Some nations' finance chiefs may resist ceding more power to Brussels.
Banking Union
The proposal: Countries instituted a common framework for dealing with failing banks with the creation of the Single Resolution Board in 2015. The board has the power to wind down an institution once the European Central Bank has declared it's impaired. Next step: putting in a financial backstop to cover the costs of the resolution process and a guarantee fund to compensate depositors.
The politics: Germany, Finland, and the Netherlands aren't fans, concerned that their taxpayers might end up paying for problems lurking in bank balance sheets in other countries.
A European Monetary Fund
The proposal: The Luxembourg-based European Stability Mechanism—a bailout fund for euro area governments—could be given more say over rescue programs and potentially greater power to carry out fiscal monitoring.
The politics: Euro area countries and EU officials in Brussels support the idea, but they disagree on who should run the fund and what powers it will have.
What's Next
European leaders aim to reach agreement on the various proposals by June. That deadline was set by EU President Donald Tusk so discussions would wrap up before the start of campaigning for the 2019 European Parliament elections.
Before it's here, it's on the Bloomberg Terminal.
LEARN MORE