Politics
Trump's Jerusalem Decision Hands Iran a Powerful Tool
The Palestinians' cause has been eclipsed by the broader convulsions in the Middle East. Now, Tehran can use it to increase its influence in the region.
By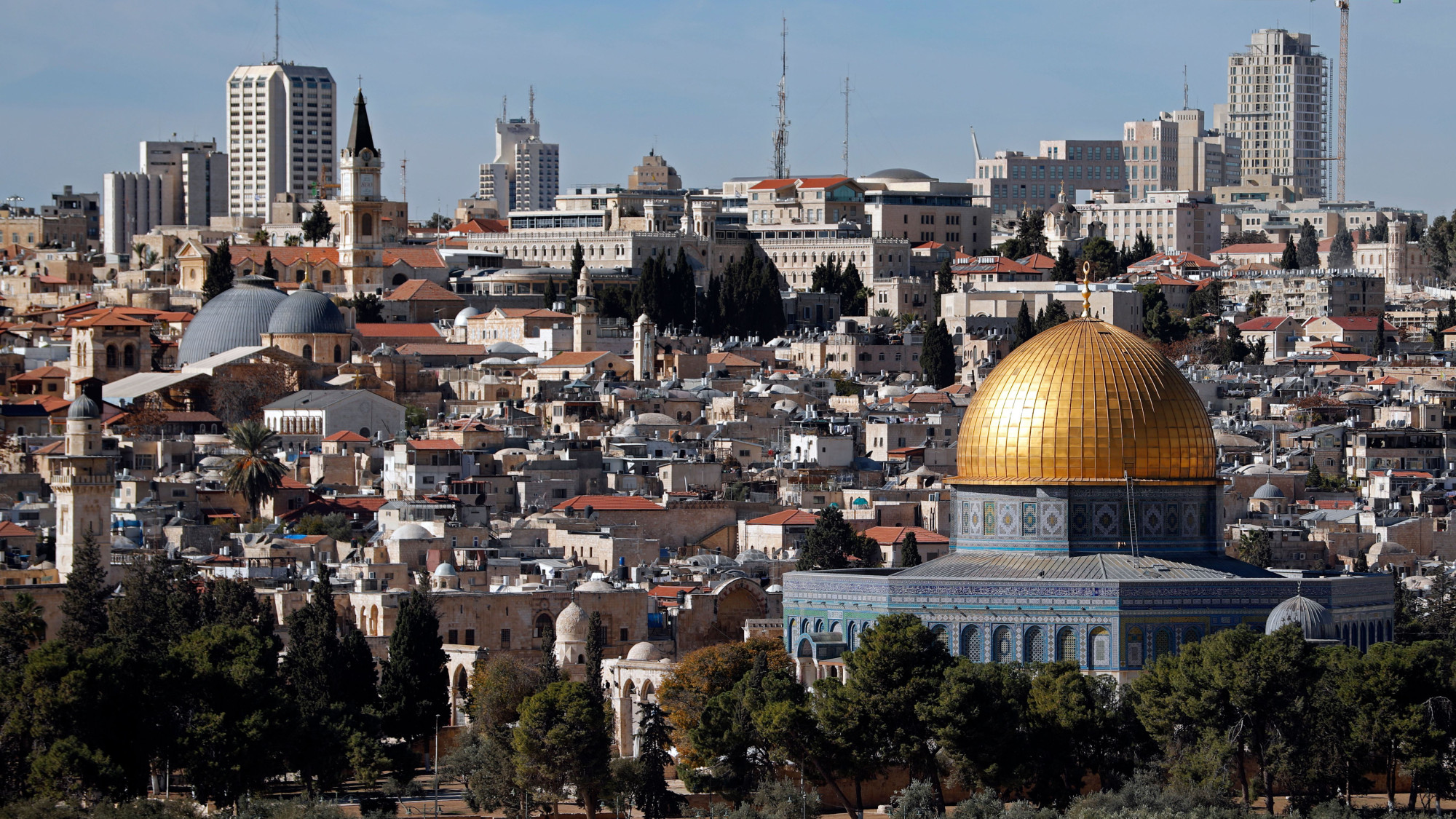 The protests in Beirut's southern suburbs on Dec. 11 were as predictable as they were angry. The neighborhoods are a stronghold of Hezbollah, the Iranian-backed Shiite militia, and President Trump's decision a few days earlier to recognize Jerusalem as Israel's capital struck at the core of the group's mission: the continued struggle against the Jewish state. Thousands of protesters chanted, "War, war until victory" and waved Palestinian flags. Hezbollah's chief, Hassan Nasrallah, appeared by video link projected onto an outdoor screen to urge all "resistance groups" to unite. "Trump's decision will be the beginning of the end of Israel," he declared.
The call to arms wasn't entirely confined to militants backed by Iran, yet they might as well have been. By comparison, reaction across much of the Arab world was muted. While Trump's Jerusalem announcement was meant to appeal to his conservative base, including evangelicals and pro-Israel hawks, it also appears to have played into the hands of Iran, the very country in the Middle East he's most interested in antagonizing. By giving the Israelis such a large symbolic win, Trump has buttressed Iran's argument that it—and not its rival and longtime U.S. ally Saudi Arabia—is the true defender of Palestine. "Trump's decision is a gift on a silver plate to Iran," says Ghanem Nuseibeh, founder of London-based political risk consultants Cornerstone Global Associates. "If the Iranians were putting forward this strategy, they could not have done it better. It empowers the Iranian position."
The announcement also complicates things for the Saudis, who find themselves aligned with the Americans and recently the Israelis in their broader struggle with Iran for regional dominance. Historically, Saudi Arabia has portrayed itself as guardian of the Palestinian cause. The kingdom, whose de facto leader, Crown Prince Mohammed bin Salman, has courted Trump this year, urged the U.S. to reverse its decision.
While there were no official calls for violence in the kingdom, Saudi newspapers, which are privately owned but government-guided, carried editorials lashing out at the Americans. In a letter addressed to Trump and published in newspaper Al-Jazira, Prince Turki al-Faisal, a former Saudi intelligence chief and ambassador to Washington, put it plainly. "Your decision has also emboldened Iran and its terrorist minions to claim that they are the legitimate defenders of Palestinian rights against Israel and America's imperialist aims," the prince wrote.
Trump's move is also a setback for the peace efforts that his son-in-law, Jared Kushner, has been directing. The consequences of the decision will become clearer when Kushner's team puts forward a plan next year. Meanwhile, Iran can count on what it calls its "resistance axis," which also includes Syria, Hezbollah, some Iraqi militias, and Hamas, the Palestinian faction that controls the Gaza Strip. They are virulently anti-U.S. and anti-Israel. "If the match Trump lit in Jerusalem catches fire, Iran wins," says Jonathan Rynhold, a senior research associate at Israel's Begin-Sadat Center for Strategic Studies. "The Israeli-Palestinian conflict is a pool of petrol. Any sustained increase in Israeli confrontation with Hamas or Hezbollah strengthens Iran's influence."
The question is whether Iran can use this to woo Sunni Arabs wary of its regional ambitions, particularly as Hezbollah has been fighting Sunnis in Syria. "It's going to be very hard for the Iranians to exploit this given the fact they are Shiite," says Aaron David Miller, a Middle East expert at the Wilson Center in Washington. "It's very hard for them to mobilize Sunnis on this or act in ways to undermine the American objectives and promote theirs." Yet, the lack of a strong response to Trump's gambit from leaders in Sunni-majority countries such as Egypt and Jordan gives Iran an opening to exploit, says Amatzia Baram, an expert on Shiite Islam at the University of Haifa. "The regimes in Cairo, in Amman, who are not coming out very strongly against America and Israel, are seen by people in the Sunni world as neglecting their duty," he says. "And the very vociferous propaganda from Tehran and Beirut is very popular because Jerusalem is Jerusalem to every Muslim."
The plight of the Palestinians has traditionally been the one issue that Muslims across the Middle East could agree on. Yet amid the chaos of the Arab Spring, the U.S. invasion of Iraq, and the Syrian civil war, it has lost some of its cause célèbre status, in the Arab world and elsewhere. As Saudi Arabia has sought a closer relationship with the U.S. and focused on containing Iranian influence, support for Palestine doesn't come with the same fervor it used to in the kingdom. In 2002, after Israeli forces besieged the West Bank, Saudi Arabia's then ruler, King Fahd, ordered a massive fundraising effort for the Palestinians, including a three-day telethon that raised more than $100 million. Saudi Arabian Oil Co. donated 1 million riyals ($267,000) to the cause and began a five-week campaign among its workers. Nothing like that is happening now.
Iran has been playing the long game when it comes to Palestine. After the 1979 Islamic Revolution, Iran initiated a national day celebrating Al-Quds—"Jerusalem" in Arabic—to support Palestinians and spread its regional influence. The event is now marked by Shiites as far away as Nigeria. Iran calls its elite military unit the Quds force.
Saudi Arabia is trying to liberalize its economy and society while fighting extremism and terror groups, some of which its ultra-conservative strain of Islam helped fuel. Meanwhile, Iran continues to back militants labeled terrorist organizations by Western nations. In some corners of the Islamic world, that improves Iran's standing as a bulwark against perceived Western influence and Saudi complicity. "Iran's strategy has been to exploit any problems in the Arab world," says Kamran Bokhari, senior analyst at George Washington University's Program on Extremism. The Jerusalem decision "in a complex way strengthens Iran's leverage in the region," he says. "It's not something that Trump wanted to do, but it's an unintended consequence."
A Dec. 13 summit hosted by Turkish President Recep Tayyip Erdogan to denounce Trump's decision underscored the delicate politics. Iran's president and heads of states from Kuwait, Jordan, and other nations attended, while Saudi Arabia sent a lower-level delegation, prompting Mohammad Javad Zarif, Iran's foreign minister, to tweet: "Inspired by very high level participation at extraordinary OIC summit, despite handful of telling exceptions." —With David Wainer, Glen Carey, and Jonathan Ferziger
BOTTOM LINE -
Trump's decision to recognize Jerusalem as Israel's capital has long-term consequences for the broader struggle for regional dominance between Saudi Arabia and Iran.
Before it's here, it's on the Bloomberg Terminal.
LEARN MORE