Pishevar Steps Down From His VC Firm After Misconduct Claims
By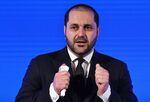 Shervin Pishevar stepped down from the venture capital firm he co-founded after multiple women accused him of sexual misconduct.
The move follows his decision last week to take a leave of absence from his duties at the venture firm, Sherpa Capital; transportation startup Virgin Hyperloop One, which he cofounded and where he served as co-executive chairman; and other corporate boards. Pishevar, known for his early investment in Uber Technologies Inc. and political connections, denied all allegations of inappropriate conduct.
"I plan to focus now on the appropriate ongoing legal actions against those who are unjustly orchestrating the smear campaign against me," he wrote in a statement Thursday. "My truculent opponents are out to settle scores that have nothing to do with Sherpa, and I refuse to allow my enemies to drag my Sherpa family into their fight with me."
In May, Pishevar was arrested in London after a woman accused him of raping her. Police said Pishevar was "released under investigation" and never charged. Pishevar denied the assault allegation and later sued a corporate research firm, claiming it was spreading false information about him. The firm, Definers Public Affairs, said it had never done work regarding Pishevar and accused him of "a cynical ploy to use the court system to deflect attention."
Last month, Bloomberg reported on allegations of sexual harassment or assault involving six women. Days later, two prominent Democratic senators, Kamala Harris and Cory Booker, said they donated political contributions from Pishevar to charity. Another woman later came forward with allegations against Pishevar to news site Axios.
Sherpa Capital declined to comment on whether Pishevar will still be eligible to get a cut of any of the firm's profits, as is customary for venture capitalists who leave their firms. Justin Caldbeck, who departed his firm Binary Capital in the wake of sexual harassment allegations, will get a share of profits from the startups he backed while there and at a previous firm.
Pishevar's board seats will be divided between co-founder Scott Stanford and principal Brian Yee, said a person familiar with the matter, who asked not to be identified discussing business plans. Sherpa Capital's investments include Virgin Hyperloop One, food-delivery company Munchery and health startup Cue.
"We thank Shervin for his contributions and service in co-founding Sherpa Capital," a spokeswoman for the venture capital firm wrote in an emailed statement. "We are deeply committed to our culture of integrity, inclusion, and respect and will continue to put these values into action through all of Sherpa Capital's activities, including the founders and companies we support."
Before the misconduct claims, Pishevar had gained attention for his colorful defenses of Travis Kalanick, the former Uber chief executive officer who was ousted by other shareholders. In a letter he published in August, Pishevar wrote that Kalanick was under attack from "sanctimonious hypocrites" and their "perfidious greed."
For more, check out the Decrypted  podcast:
Pishevar concluded his resignation statement Thursday with a quotation from a poem by Rudyard Kipling, the Victorian author of the "The Jungle Book" and other works. "If you can trust yourself when all men doubt you, But make allowance for their doubting too; ... Or being lied about, don't deal in lies."
— With assistance by Emily Chang
Before it's here, it's on the Bloomberg Terminal.
LEARN MORE