Win for Markets Darling in ANC Contest May See Stocks Slump
By and
South African ruling party about to choose new leader

Ramaphosa victory could weaken weighty rand-hedge shares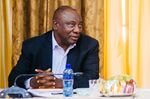 In the topsy-turvy world of South African stocks, a triumph for investors' preferred candidate in the contest to lead the ruling African National Congress could weaken the country's benchmark index.
The victor, likely to be either Cyril Ramaphosa or Nkosazana Dlamini-Zuma, would need to commit to spending discipline and the rebuilding of key state institutions like the revenue service and the prosecuting body to win over investors, according to John Orford, who helps manage about 600 billion rand ($37 billion) in equities at Old Mutual Investment Group.
"Broadly speaking, that's what the market would want whoever becomes president of the ANC to push for, and the market probably thinks that Ramaphosa is more likely to deliver that," Orford said by phone from Cape Town. "We would have to look carefully at what either of them said and did following their election, but the initial reaction will be pro-rand if Ramaphosa wins and rand weaker if Dlamini-Zuma wins."
Success for the Ramaphosa campaign in the Dec. 16-20 elective conference in Johannesburg may prompt investors to price in a higher probability of structural reforms, boosting confidence in the economy and causing the currency to appreciate. That's not necessarily good news for benchmark index heavyweights with significant foreign operations and those with listings in developed markets that benefit from rand weakness. 

"The overall equity market might come under pressure," Orford said. "Within that, the local interest rate-sensitive equities -- banks, retailers -- will do better in that environment and the rand hedges would probably underperform."
Read more here on the ANC under Jacob Zuma
Conversely, a choice of Dlamini-Zuma to succeed her ex-husband Jacob Zuma as head of the ANC and the party's presidential candidate in 2019 elections may rattle the currency and prompt stock investors to seek shelter in the likes of Richemont, British American Tobacco Plc, Naspers Ltd. and Anglo American Plc.

Here are the views of some other analysts and investors on the ANC conference's stock-market impact:
Soledad Lopez, an emerging market strategist at UBS Group AG in New York:

Expect the race for ANC leadership to be a close one, increasing political uncertainty and volatility. Believes a benign outcome is more likely
"We now see Ramaphosa as the front runner and we would expect a strong market reaction after the announcement of the new ANC leader -- positive if Ramaphosa wins, and negative if Dlamini-Zuma prevails"
Ramaphosa may not be able to deliver on reforms as much as the market expects, and the situation under Dlamini-Zuma may be marginally better than with the current president. "However, we would still consider the latter scenario as negative for the country's macroeconomic and fiscal outlook"
"We continue to be neutral in MSCI South Africa." The market remains expensive at 19.2 times 12-month-trailing price-earnings ratios, almost two standard deviations above its 10-year average, amid low earnings growth
"We prefer to stay on the sidelines ahead of the uncertain election and the future direction of the economy"

Wayne McCurrie, portfolio manager at Ashburton Investments Management, the money managing unit of Africa's biggest bank by value:

"From an economic view point, this is probably the biggest single domestic event since the unbanning of the ANC and the dawn of the new South Africa in 1994"
If Dlamini-Zuma wins presidency, "there will be an initial negative reaction, so the rand could weaken 5 to 10 percent, banking shares could fall 5 to 10 percent, the rand-hedge shares could go up 5 or 10 percent. But they will probably quite quickly come back to more or less current levels"
If Ramaphosa wins the election uncompromised, "then quite frankly, simplistically it's off to the races. The rand could go to 12-12.50 rand" to the dollar. "Banking shares will go up strongly and stay up, retailers will react very positively and maybe the building and construction shares will react very positively. But the mining shares and rand-hedge shares will have a dramatic and sustained negative reaction"

Patrice Rassou, head of equities at Sanlam Investment Management in Cape Town:

"Political outcomes globally have become hugely difficult to forecast as polls have tended to be inaccurate; the market tends to be focused on policies rather than personalities"
Another key issue in South Africa is the stance of the winning candidate on corruption, including their key appointments to state-owned enterprises and ministerial posts

Sonja Keller and Yvette Babb, strategists at JPMorgan Chase & Co.

Branch nominations "point to at most a narrow advantage or, perhaps more likely, no outright win for either the modernist Ramaphosa or Nkosazana Dlamini-Zuma"
"The very tight race coupled with proposed changes in the voting process and some provincial leaders' comments point to serious efforts to negotiate a 'mixed slate,' whereby representatives from both the modernist and traditionalist factions occupy leadership positions, potentially excluding both candidates"
— With assistance by Paul Wallace, and Rene Vollgraaff
Quotes from this Article
Before it's here, it's on the Bloomberg Terminal.
LEARN MORE