politics
May Offers Last-Minute Concession to Rebels: Brexit Update
By , , and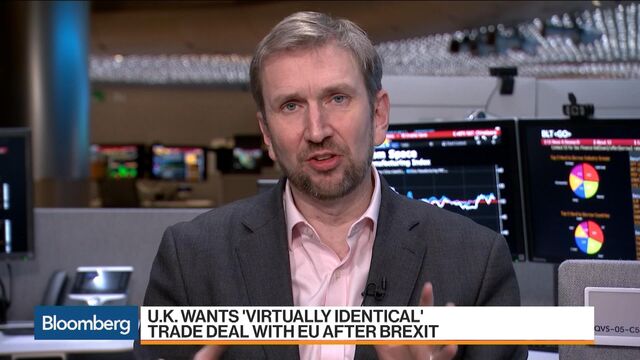 Follow @Brexit for all the latest news, and sign up to our daily Brexit Bulletin newsletter.
U.K. Prime Minister Theresa May's flagship Brexit bill is in the House of Commons Wednesday for a vote that could be the first the government loses. 
There's a stand-off between the government and Tory rebels, who want Parliament to be able to alter or veto a final Brexit deal if they don't like it. They want to include a line in the bill that would force the government to pass full legislation before implementing any Brexit deal. So far prospective rebels have been bought off with concessions or promises of concessions on other aspects of the draft law. But on this issue they're so far standing firm.
Here are the latest developments, updated throughout the day. Time-stamps are London time.

May Offers Last-Minute Concession to Rebels (6:45 p.m.)
The government offered to come back to Parliament with an amendment that would address lawmakers' concerns on the EU Withdrawal Bill.
The amendment would be brought forward at the next legislative stage, government minister Dominic Raab said.
But three leading Conservative rebels rejected it as too little too late.
"A moment comes in one's life when you have to set aside party differences and even party loyalty and you have to be true to your principles and what you believe in. And I believe that moment is now," Anna Soubry, a rebel Tory lawmaker, said.
May is now heading for a showdown vote in Parliament, which she may lose.


May Heads For Showdown in Tight Parliament Vote (4:04 p.m.)
The U.K. government says it has already made concessions on the EU Withdrawal Bill, suggesting it's not planning to make any more in order to prevent a rebellion in Parliament over its landmark Brexit legislation.
"We have in good faith come forward with a strong package of concessions to deal with the spirit of the amendment," government spokesman James Slack told reporters.
The rebels aren't showing any signs of backing down either, so a nail-biting vote is on the cards at about 7 p.m. on Wednesday.

Tory Rebels Pile on Pressure as May Risks Defeat (2:45 p.m.)
Former Attorney General Dominic Grieve told lawmakers that he won't back down on his amendment, which calls for a meaningful vote on the final Brexit deal, unless ministers incorporate it into the bill.
Labour Brexit spokesman Matthew Pennycook welcomed Grieve's commitment to force a vote, setting up the possibility of a defeat for May later on Wednesday.
May has a working majority of 13 in Parliament, and at least seven Labour lawmakers supported Brexit and may join the governing Tories in opposing the amendment. Ten Tories have put their names to the relevant amendment while another five were among those named as "mutineers" on the front page of the Daily Telegraph newspaper and may vote with them. Combined, that would be enough to defeat the government.
Who is Grieve: Some Say the U.K.'s Most Important Man on Brexit
Grieve accused anti-EU lawmakers of closing down debate on the practicalities of Brexit by accusing him and other pro-Europeans of being "saboteurs" and "traitors" for raising concerns about the process.
"The most worrying aspect of the debate is how we've become so fixated on ends that we don't look at the means," he said. "The major thing that has been undermining our negotiation is the impression of chaos in both our procedure and our aims."
Grieve also said that if the government was planning to leave the EU without a deal, he would withdraw his support for the party.
PM Says Rebel Amendment Could Stymie Smooth Exit (12:46 p.m.)
Theresa May said she rejects the Conservative rebels' amendment because it could get in the way of a smooth and orderly exit.
She promised to give Parliament a vote on the final deal but won't write it into law as the lawmakers want. As currently worded, the amendment could hinder the government's ability to implement legislation that's needed by Brexit day, "which could mean that we are not able to have the orderly and smooth exit from the European Union that we wish to have.," May told lawmakers in Parliament.
The premier was responding to a plea from one of the prospective rebels, former Business Minister Anna Soubry, who said that "nobody wants to be disloyal or to bring about more disunity," before asking May to accept the amendment put forward by her fellow Tory, former Attorney General Dominic Grieve.
PM Appeals to Rebels But Words May Not Be Enough (12.30 p.m.)


Theresa May made a personal pitch to her own Tory lawmakers in an attempt to persuade them not to rebel in a key vote on her Brexit law.
The government "will put the final withdrawal agreement between the U.K. and the EU to a vote in both houses of Parliament before it comes into force," May told her colleagues in a weekly question and answer session on Wednesday.
In effect, the prime minister was re-stating the written offer from Brexit Secretary David Davis on Wednesday morning. Rebel members of Parliament have already said that Davis's assurances won't be enough to stop them voting against the government in the Commons on Wednesday night. They want their right to a vote written into law.
May said she expected the U.K. parliament to vote on the terms of Brexit before the European parliament does, "so we fully expect Parliament to vote well before March 2019." If this vote isn't enough, there will be more opportunities for lawmakers to get involved. These include a new law encompassing the exit deal and transition phase arrangements, "which will be subject itself to full parliamentary scrutiny."
"And of course after we leave, the withdrawal agreement will be followed up by one or more agreements covering different aspects of the future relationship and we will introduce further legislation where it's needed to implement this into U.K. laws in Parliament," May said.
Three Tory Rebels Say Concessions Not Enough (8:59 a.m.)
At least three potential Conservative rebels now say Brexit Secretary David Davis's concessions aren't enough to stop them for pushing for the withdrawal bill to be amended to require a Parliamentary vote on the eventual Brexit deal.
One Tory, speaking on condition of anonymity, said that assurances outside of legislation aren't enough, while another simply responded "no" to a question about whether the Brexit secretary's concessions would suffice. 
"The written ministerial statement, whilst welcome, does not deal with why the government needs the powers to bypass a vote in Parliament," a third rebel, Conservative lawmaker Antoinette Sandbach, said. "The only way to guarantee a vote is to have a meaningful vote written into the bill."
Greening Hints More Concessions May Be Coming (8.36 a.m.)
Education Secretary Justine Greening suggested that ministers may be ready to give more ground. Asked about the vote on BBC Radio 4, she replied: "We're going to make sure that through the concessions today we continue to command the support of Parliament."
So far this morning, the government hasn't actually made any concessions, it's just set out its existing position. Rebels say this isn't enough.
"The written ministerial statement, whilst welcome, does not deal with why the government needs the powers to bypass a vote in Parliament," said Conservative lawmaker Antoinette Sandbach. "The only way to guarantee a vote is to have a meaningful vote written into the bill."
Meanwhile Labour's Brexit spokesman Keir Starmer has, as expected, said that the opposition party will back the main rebel amendment, former Attorney General Dominic Grieve's "Amendment Seven."
Greening's words may have been a slip of the tongue, or they may have revealed that ministers are preparing to make more concessions rather than face defeat.
Davis Tries to See Off Tory Rebellion (8.01 a.m.)
Brexit Secretary David Davis has just written to all Tory members of parliament drawing their attention to a statement he's laid before Parliament this morning, promising that Parliament will get to vote on any deal with the EU before the government tries to implement any part of it.
He went on to explain that the government will only be able to agree a deal with Parliamentary approval. "I hope this explanation provides clarity and reassurance about Parliament's role in approving the agreements that will give effect to our withdrawal from the EU," Davis wrote in closing.
The lead rebel, Dominic Grieve, didn't immediately respond to a request for comment, but one of his colleagues, speaking on condition of anonymity, said that Davis's reassurances weren't enough for them.
Coming Up:
Dec. 14: EU summit -- when the EU is expected to sign off on divorce terms so talks can move on to trade
What Happened on Tuesday:
EU chief negotiator Michel Barnier warned the U.K. he would be vigilant to any backsliding on the commitments made last week to secure the breakthrough
The EU expects to have its offer of a possible two-year transition period ready to present to the U.K. by the end of January, and is prepared to start talking about the future trade partnership by the end of March
The European Parliament accused Davis of undermining trust in the Brexit negotiations, with one top lawmaker describing the British government as behaving like a "gangster" in its dealings with other countries
— With assistance by Thomas Penny
Before it's here, it's on the Bloomberg Terminal.
LEARN MORE