business
This Hedge Fund Is Preparing for Swedish Real Estate Turmoil
By
Peak fund has returned 8.1% on average since start in 2014

Fund holds long positions in S&P 500, commodities and gold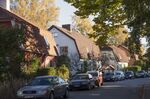 The potential for a housing crash in Sweden has Peak Asset Management surveying for opportunities.
In particular there could be "developers that have come under pressure since housing prices have started to fall," Per Djerf, co-founder and chief investment officer at the Stockholm-based hedge fund manager, said by phone on Tuesday. "It's possibly a bit early but we're looking at what could be the next interesting sector in the Nordics."
The Swedish housing market has showed signs of a correction after prices surged amid record low interest rates. Nationwide home prices fell 2.9 percent in November, according to the Nasdaq OMX Valueguard-KTH Housing Index, HOX Sweden, which was published on Thursday. Prices are now 0.2 percent lower than a year earlier, the first time since May 2012 that prices have dropped on an annual basis.
Read more on Swedish housing turmoil
Djerf, who oversees 2.5 billion kronor ($300 million), manages the Peak Core Strategies hedge fund, which uses event-driven, macro and arbitrage strategies to deliver absolute return. In the event-driven basket the fund tries to find special situations and exploit arbitrages within the capital structure of a company, primarily in the Nordics.
"The Nordic credit market is relatively young and still unsophisticated," he said. "Quite often there can be details that are overlooked or under-analyzed or just out of flavor, perhaps because the market is negative to an industry."
Peak Core Strategies has returned on average 8.1 percent a year since its start in 2014 with a maximum drawdown of 2.4 percent. The return so far this year through November is 9.1 percent.
In the current low-volatile markets the event driven strategies are "working best" while the arbitrage strategies are struggling, according to Djerf. The fund has event-driven positions in Pilbara Minerals Ltd., game developer THQ Nordic AB, Isofol Medical AB and Sedana Medical AB. In the macro portfolio, the fund is "a bit long" the S&P 500 Index, long commodities and also gold as a hedge of geopolitical risk.
But with rising markets and high valuations that have led to "extreme" prices, it has become harder to find underpriced assets, according to Djerf.
"The end of free money is probably the biggest single risk today," he said. "Everybody knows that it's coming but nobody knows when, and most people don't want to leave the party early. But once central banks start to unwind their balance sheets and interest rates normalize, so will asset valuations."
(
Updates with home price data in third paragraph.
)
Before it's here, it's on the Bloomberg Terminal.
LEARN MORE