Business
The Next High Hurdle for America's Pot Industry
The use of anti-racketeering lawsuits to restrict locations for marijuana businesses is growing.
By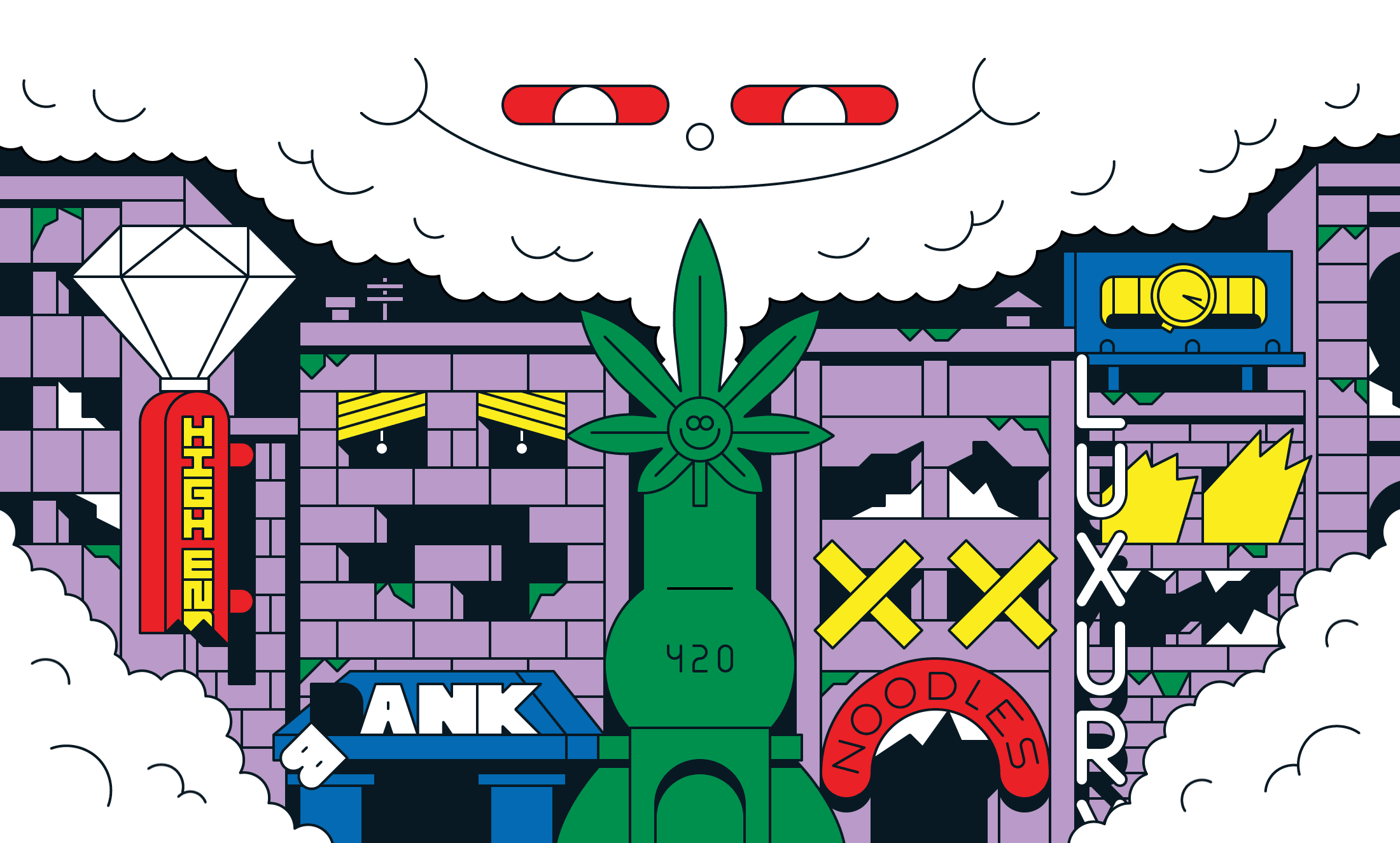 Healthy Pharms sounds like such an agreeable business, until you read a lawsuit filed by a would-be neighbor on Harvard Square in Cambridge, Mass. It warns of "pungent odors," "undesirable visitors," higher crime rates, and lower property values if the medical marijuana shop opens as planned. Not incidentally, it also points out that Healthy Pharms would operate in flagrant disregard of the federal law that categorizes cannabis as a controlled substance every bit as illegal as heroin or cocaine.
Raj Dhanda, the controlling partner of companies that own the Crimson Galeria and three other buildings near Harvard University, lodged the complaint in September under the Racketeer Influenced and Corrupt Organizations Act—marking at least the fourth time the statute known as RICO has been used to challenge a marijuana enterprise in states that have legalized the drug.
While pot remains illegal under federal law, Massachusetts voters approved medical marijuana consumption in 2012 and recreational use in 2016; the latter will kick in next year. The drug is legal for at least one of the two purposes in 29 states, the District of Columbia, Puerto Rico, and Guam. But that doesn't mean everybody wants a weed business next door. That's why the burgeoning $6 billion marijuana business in the U.S. should view the RICO suits as serious threats, says Sean O'Connor, faculty director of the Cannabis Law and Policy Project at the University of Washington School of Law. Even if all the litigation fails, he says, "it could have its intended impact."
The chilling effect is already at work in Cambridge, according to Nathaniel Averill, co-owner of Healthy Pharms Inc. He says it's become more difficult to persuade potential investors to put up cash for his dispensary. "The stakes are high, and not just for us," he says.
RICO, enacted in 1970 and initially tapped to go after mobsters, allows individuals to make civil complaints against anyone allegedly playing a role in the commission of a crime that harms a plaintiff's property or business. That's what Dhanda contends Healthy Pharms is doing before its launch, as soon as it gets final state approval.
The crime is conspiring to sell an illegal narcotic, says the suit, which names 19 defendants—including Massachusetts Attorney General Maura Healey, the state Department of Public Health, the city of Cambridge, and Healthy Pharms' bank. "As long as federal law says what it says about marijuana, everybody who's involved in this industry has potential legal exposure," says Brian Barnes, one of Dhanda's lawyers. "It makes honest sense for people to pursue these claims." The University of Washington's O'Connor agrees there'll be more cases, calling RICO a clever tool "for folks who are opposed to state legalization to restrict it or shut it down."
Barnes is also behind RICO suits in Colorado. One was filed by Pueblo County ranchers against a pot-growing facility on adjacent land. It was thrown out by a judge who ruled they didn't have standing to sue under the racketeering law. The 10th U.S. Circuit Court of Appeals disagreed in June, reinstating the complaint. A trial is set for July 2018.
In Frisco, Colo., Barnes was the lawyer for a Holiday Inn that sued to stop a dispensary from moving to a nearby location. The plaintiff withdrew the case after two of the 12 defendants, a bank and an accounting firm, reached settlements totaling $70,000. A note on the dispensary's website says it was forced to shutter because of the RICO complaint; the owner couldn't be reached for comment. Those who settled didn't respond to requests for comment.
Another active RICO action involves Oregon landowners suing a neighboring pot-growing and processing outfit. This suit, filed in July, names 43 defendants, including Bank of America Corp., which holds mortgages on the business's land. BofA in its motion to dismiss contends it can't be held liable for the alleged nuisance and that the "real-world consequences of any other ruling would be far reaching and absurd."
In Cambridge, Dhanda seeks $81.2 million for alleged injuries from the planned Healthy Pharms outlet. He puts the harm at $27.1 million. People can sue for treble damages under RICO. Potential backers of redevelopments of two Dhanda properties have been turned off because the pot shop site would be within 200 feet, says his lead counsel, Scott Schlager. He also says an appraiser found Dhanda's Harvard Square real estate has fallen in value.
Researcher CoStar Market Analytics says Harvard Square's average retail space sales price has risen 11 percent since 2000, despite the bars and tattoo parlors. The Harvard Square suit is "nothing more than a political stunt and an unfortunate waste of a federal court's finite resources," says Adam Wolf, a lawyer for three of the defendants, including 4Front Advisors LLC, a cannabis-business consulting firm.
Schlager describes his client Dhanda as pro-business, not anti-weed. "He is not a troglodyte, he is not an ideologue, he's not trying to assuage this great personal vendetta against the marijuana industry," says the lawyer. "He's suffered an actual harm."
Averill of Healthy Pharms says he's confident a trial court would find Dhanda's claims meritless. But for his company, which now has one medical marijuana dispensary, north of Boston in Georgetown, "the prospect of defending ourselves in court against a multimillion-dollar real estate investor is daunting."
BOTTOM LINE -
Four federal racketeering suits have attempted to stop pot businesses in states where their operation is legal. The strategy could put many more weed shops at risk.
Before it's here, it's on the Bloomberg Terminal.
LEARN MORE