Teva Braces for Nationwide Strikes by Israeli Union on Job Cuts
By
'We're going on strike across all of Teva,' union head says

Maker of generic drugs to announce cost-cutting plans Thursday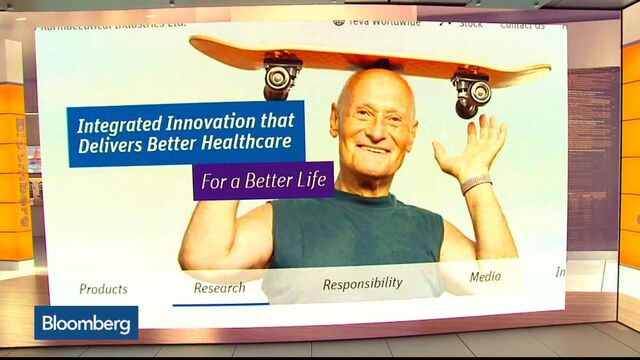 Teva Pharmaceutical Industries Ltd., the beleaguered drugmaker that's selling assets and retrenching operations as it grapples with $35 billion in debt, may face a nationwide strike by Israel's national labor union in response to any further job cuts.
Chief Executive Officer Kare Schultz, who took the helm in early November, is poised to announce his turnaround plan on Thursday. The world's biggest manufacturer of generic medicines is planning to cut as many as 10,000 jobs around the world to trim about $1.5 billion to $2 billion in expenses over the next two years, people familiar with the matter told Bloomberg last week. That represents more than 15 percent of Teva's global workforce.
Schultz is wrestling with debt that's ballooned to twice the company's market value, accumulated from its $40 billion acquisition of Allergan Plc's generics portfolio last year. That deal was meant to cover the loss of the monopoly on its top-selling product. Instead, Teva has been forced cut its profit forecast and slash its dividend as prices for generic drugs collapsed in the U.S., its biggest market.
The Israeli newspaper Calcalist reported Wednesday that Teva, one of Israel's largest employers, plans to fire more than half its workforce in the nation.
Economic Repercussions
"We're going on strike across all of Teva, all its plants, on Sunday," Avi Nissenkorn, chairman of the union, said at a Tel Aviv press conference late Wednesday. "The entire economy will stand in unison until the afternoon: all of it. From the airport, to the banks, to the ports, to municipalities, to government services, to" health services.
The labor union, known as Histadrut, says it has about 750,000 members. While its power has diminished in recent years, it still wields power over major swathes of the economy and is capable of bringing work to a standstill if it carries out its promise.
The company didn't immediately respond to a request for comment.
Shares of Teva fell 2.8 percent to 54.29 shekels as of 11:25 a.m. in Tel Aviv, extending their decline this year to about 61 percent.
The planned work stoppage reflects the depth of the crisis facing Teva, once known in Israel as "the people's share" because of the ubiquity of its stock in public pension funds. Investors and analysts expect the drugmaker to cut costs and over the years have pointed to Israel as a natural place to start.
Teva has been hesitant to do so for fear of risking the tax sweeteners it gets from the government. The company has received 22 billion shekels ($6.2 billion) in breaks since 2006, Nissenkorn said.
Nissenkorn faulted Teva's board for treating the company's workers as "numbers," and said management was to blame for the company's troubles. He called on Prime Minister Benjamin Netanyahu to intervene and help minimize the layoffs at home. 
Before it's here, it's on the Bloomberg Terminal.
LEARN MORE