Fed 2018 Dots in Focus for Yellen Finale: Decision Day Guide
By
Yellen post-meeting press conference her last before departure

Fed rate projections may signal risk of inverted yield curve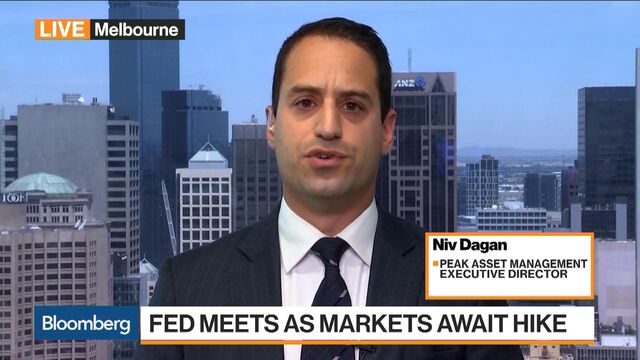 As investors await 2018 direction from Federal Reserve chairman nominee Jerome Powell, they will get one last chance to hear Janet Yellen's take on the U.S. economy.
If all goes as expected, she will use her final scheduled press conference before stepping down at the helm of the U.S. central bank to explain why officials raised rates a third time this year.
The rate-setting Federal Open Market Committee is expected to lift the target range for the benchmark federal funds rate by a quarter percentage point to 1.25 percent to 1.5 percent at the conclusion of its two-day meeting in Washington on Wednesday. A policy statement will be released at 2 p.m. and her press conference begins 30 minutes later.
The move will mark Yellen's fifth hike since she began raising rates from zero in December 2015, but the key for markets will be the FOMC's dot-plot projections of interest rates for 2018, 2019 and beyond. Some participants could edge forecasts higher in light of a strengthening U.S. economy and Congress's likely passage of tax cuts.
Read Bloomberg Economics' preview of the Fed's meeting
"People are going to be focused almost exclusively on the dots," said Stephen Stanley, chief economist at Amherst Pierpont Securities and a former researcher at the Richmond Fed. "Everything at the margin would argue for more rather than less tightening."

Powell will replace Yellen when she steps down on Feb. 3, assuming he's confirmed by the full Senate as expected. She presides over one last meeting at the end of next month, which will not be followed by a press conference.
In September, Fed officials projected three hikes in 2018 and two more in 2019, with rates settling at 2.75 percent in the longer run, according to the median estimate. While those forecasts are not expected to change, there is a chance they could edge higher.
The U.S. economy is heating up, with growth tracking about 2.9 percent for the fourth quarter, according to the Atlanta Fed, following two quarters above 3 percent. President Donald Trump and Republican lawmakers are also closing in on a package of corporate tax cuts which could also help lift growth.
Powell, in his Senate confirmation hearing last month, said 2018 growth could be around 2.5 percent. The FOMC seems likely to raise its growth estimates from 2.1 percent in September.
Unemployment estimates for 2018 and 2019 will likely come down, reflecting the 4.1 percent jobless rate in November. The FOMC in September estimated long-run unemployment at 4.6 percent, which might be trimmed as well.
"The rationale for raising the dots would be a presumed increase in demand in an economy that already is growing well above potential with a tight labor market," said Roberto Perli, partner at Cornerstone Macro LLC in Washington. "That, in the mind of some, could create inflation risk that the Fed needs to offset." The decision is "a very close call."
One argument for caution is that more tightening could push short-term rates above longer-term rates, a so-called inverted yield curve. The September path of the dot plot suggests an inverted curve by late 2018, which in the past has been a "bearish signal," warned St. Louis Fed President James Bullard.

Minneapolis Fed President Neel Kashkari is likely to dissent if the FOMC votes to raise rates and Chicago's Charles Evans may do so as well. Kashkari said last month there was "no reason to tape the brakes" while inflation has been falling. Evans said this month "the data have not been strongly indicating that we should continue with a rate increase."
The Fed's preferred measure of inflation has been under its 2 percent goal for most of the past five years.
Beyond the dots, the most important signal may be the FOMC's core inflation forecasts because it will suggest how convinced the committee is that prices are quickly returning to the goal, said Chris Rupkey, chief financial economist with MUFG Union Bank in New York.
"We want to try and get a read of how confident they are about low inflation being a transitory phenomenon," he said.
The FOMC decision will follow the release of November's U.S. consumer prices report earlier on Wednesday, which showed a pickup thanks to a jump in energy prices. Excluding food and fuel costs, the price gauge increased by a less-than-expected 0.1 percent from October and 1.7 percent from a year earlier, missing median projections by 0.1 percentage point.

The FOMC statement is likely to continue to signal gradual rate increases while repeating that risks to the outlook are roughly balanced. The committee could tweak its language to reflect the recent pickup in growth and further progress on the labor market.
With Yellen entering the final few weeks of her four-year term as chair, investors are also looking toward the era of the Powell-led Fed.
"The importance of the meeting is going to be limited" by the transition in leadership, said Ward McCarthy, chief financial economist at Jefferies LLC in New York. "At the press conference, Yellen can't be committal as she is headed elsewhere."
Before it's here, it's on the Bloomberg Terminal.
LEARN MORE