politics
As the U.S. Unwinds Net-Neutrality Rules, Industry's Voice Echoes the Loudest
By
Research seems to heavily favor internet service providers

Opponents may use agency's own arguments in lawsuits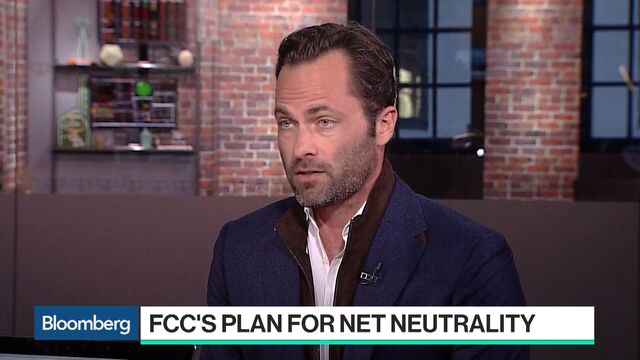 Republican regulators moving to kill Obama-era open internet regulations say one big reason for their action is that the rules have depressed investment in broadband.
But much of the research being held up by Federal Communications Commission Chairman Ajit Pai to justify rescinding that rule comes from the very companies that stand to benefit and their advocates. Even some of the authors involved question whether all the research cited by regulators is valid.
"This is a classic case of garbage in, garbage out," said telecom industry analyst Craig Moffett, a founding partner of New York-based MoffettNathanson. "There are so many other factors that drive capital investment beyond just regulatory environment."
With the FCC poised to vote Thursday to eliminate the 2015 restrictions on internet service providers, or ISPs, the seemingly academic question of how reliable the studies are could quickly become critical when opponents file lawsuits asking judges to undo the vote.
Under laws designed to prevent wide swings in policy during changes in administrations, Pai will need to prove that scrapping the rules is justified by changes in conditions since they were put in place. The move can't be arbitrary or capricious, according to a law that sets out procedures for federal rulemaking.
Major Turnaround
It will be difficult "for the agency to justify a major turnaround based on data from such a short time frame," said Andrew Jay Schwartzman of the Institute for Public Representation at Georgetown University Law Center.
"The Commission relies on self-serving public statements by ISP executives," some of which are contradicted by statements by broadband executives to the Securities and Exchange Commission, Schwartzman added.
Pai has marshaled the studies to argue that certain types of investment have declined or are under threat. Total capital expenditure by publicly traded broadband providers has grown in the two years since the open internet rules went into effect, according to net neutrality advocates.
Doug Brake, a telecom policy analyst with the Information Technology and Innovation Foundation, wrote a post on the foundation's website arguing that whether investment is up or down after the open internet rules went into effect doesn't necessarily show whether the FCC is to thank or to blame for those changes. Brake, who isn't a fan of the net neutrality rule, but who thinks Pai's order goes too far, said in an interview that the studies Pai cites resemble "soundbites" more than quality scholarship. 
'No Real Rigor'
"There's no real rigor," said Brake. "Peer review always helps make the discussion a bit more rigorous," referring to the academic process in which experts evaluate scholarship to ensure quality ahead of publication.
George Ford, chief economist of the Phoenix Center for Advanced Legal & Economic Public Policy Studies, which offers assessments on regulatory policy, noted that the order leans on research posted to personal blogging sites, which he dismissed as "junk."
"It's stunning really to me," he said. "It's not a serious piece of research."
Of the 88 footnotes in the section of Pai's order on investment, approximately 75 directly address some aspect of investment by broadband providers under the current rules. More than 30 of those cite comments by internet providers and their trade associations, including U.S. Telecom, the Wireless Internet Service Providers Association and the American Cable Association. Another 15 dismiss comments from advocates of the current regulations. Most of the rest, including Ford's and Brake's work, appeared as internet posts, sometimes by people or groups with ties to the telecom industry. Among the research cited on investment under the rules, there was one university study and one piece of research that had been peer-reviewed.
Taking Aim
Pai is taking aim at the FCC's re-classification of broadband providers under a 1934 law originally aimed at telephone companies. The 2015 move, which was designed to stop discrimination against content, including websites and videos, was considered a hard-fought victory for internet companies such as Alphabet Inc.'s Google, content-creators including Hollywood studios and grassroots activists. It was viewed as a loss for telecom and cable service companies like AT&T Inc. and Comcast Corp.
Although the section is a small part of his overall order, Pai himself has argued that the studies on investment are crucial to his proposal. In May, he said the process that led to his rule was fundamentally a "public discussion about how we can best maintain a free and open internet while making sure that ISP's have strong incentives to bring next generation networks and services to all Americans."
'Telecom Industry'
Gigi Sohn, a former FCC aide who helped write the 2015 rules, said the research is "bought and paid for by the telecom industry."
"They can't really say with a straight face that the regulatory environment is the complete and total determinant of whether" broadband providers invest or not, Sohn said.
Among the studies that Pai cites, the one that's most criticized by net-neutrality advocates is Ford's of the Phoenix Center. Despite its claims of independence, the Washington-based non-profit has a history of pro-telecom conclusions and industry ties, including overseeing what it called a "Friends of Telecoms Competition" to recognize lawmakers "based upon a confidential survey of the foremost players in the U.S. telecommunications industry," according to its 2001 annual report. It also holds an annual symposium on telecommunications. The center doesn't disclose its funding.
'Leading Telecoms Players'
Ford has worked at both the FCC and in the telecommunications industry, according to a copy of his resume posted on the center's site. The center listed Ford first among a group of "leading telecoms players" who had addressed the group in 2001.
His study argued that fear of the Obama net neutrality rule depressed telecommunications investment five years before it was approved.
Ford said his ties to industry didn't influence his research and that the Phoenix Center has never taken money from businesses to produce a particular study. He pointed to his use of open data sources and his presentation of his methods, which he said allows for replication and discussion from other experts in the comments on the proposed rule. Ford defended the center as being independent and dismissed criticism as name-calling.
The types of studies Pai cites are hardly unique to the telecom industry: Opponents are doing the same. The Internet Association, which represents technology companies including Google and Facebook Inc. has been at the forefront of fighting Pai's order, citing an analysis by its own in-house economist.
"I haven't seen an air-tight case on either side, neither one showing the 2015 order impacted investment nor one showing that it certainly didn't," said Bloomberg Intelligence telecom policy analyst Matthew Schettenhelm. "My sense is that there are lots of way to slice the numbers, but definitively establishing one causal factor is difficult."
— With assistance by Todd Shields
Before it's here, it's on the Bloomberg Terminal.
LEARN MORE