Alabama Win Gives Democrats More Leverage on Budget, Immigration
By
Roy Moore's unexpected defeat drops GOP majority to 51 votes

Republican majority already hampered by intra-party defections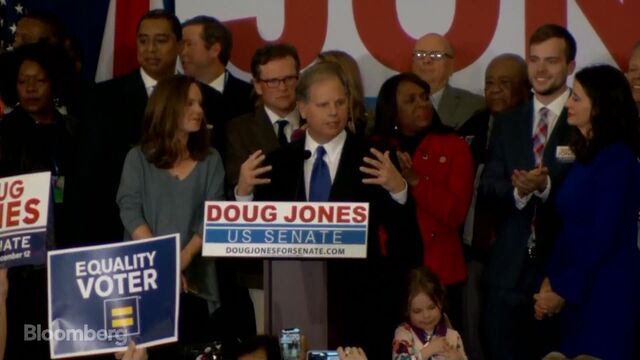 Senate Democrats gained significant new leverage to stymie the Republican agenda and make demands on spending and immigration in Congress next year after Tuesday's upset victory by their candidate, Doug Jones, in Alabama's Senate race.
Jones, who became the first Democrat to win statewide in Alabama in a quarter century, isn't likely to be sworn in before January. So if Republicans make their self-imposed deadline of passing major tax legislation by next week -- and they now have even greater incentive to do so -- the tax overhaul will be on President Donald Trump's desk before Jones takes his seat in the Senate.
But his arrival in the Capitol will pare back the Republican Senate majority to just one vote in the 100-member chamber at a time when GOP leaders are struggling to overcome differences within their party while trying to pass a full funding plan for the government, raise the federal debt limit and jump-start a broad debate on immigration and border security.
Second-ranking Senate Republican John Cornyn of Texas said the Alabama election provided "an age-old lesson, which is that flawed candidates lose." Still, he said he saw little difference in the challenge of managing a 51-49 majority instead of this year's 52-48 margin. "None of those are easy," he said.
The already narrow Republican majority has bedeviled GOP leaders at several points this year, forcing them to bring in Vice President Mike Pence to break tie votes on key matters -- including the confirmation of Education Secretary Betsy DeVos -- and dashing their drive to repeal Obamacare in July when three Republicans voted against a trimmed-back replacement.
Asked whether a 51-49 Senate will empower her and other moderates, GOP Senator Susan Collins of Maine smiled and said, "Let's hope so."
She and Alaska Senator Lisa Murkowski have withheld support for proposals to win key concessions before. Two other independent-minded GOP senators, Jeff Flake of Arizona and Bob Corker of Tennessee, are retiring and have little to lose in working with other senators to gain leverage on party-line matters.
Democratic Unity
Senate Democrats under Minority Leader Chuck Schumer of New York have demonstrated solid unity in opposition to the health care, tax and other parts of the Republican agenda, and he suggested on Wednesday that the result in Alabama gives his party more reason to hold firm with congressional elections coming up next November.
"If they continue to run the government for the benefit of the few, the special, the powerful, the wealthy interests, there will be many more Alabamas in 2018, many more," Schumer told reporters.
Missouri Senator Roy Blunt, a member of the GOP leadership, said he sees no changes to the party's agenda following Republican Roy Moore's loss in Alabama. "I think we'll get this tax bill done and then move on just like we were going to," Blunt said.
The most immediate impact of Jones's presence will be on the budget debate. The government is currently operating on temporary spending authorization that expires after Dec. 22. Leaders from both parties are angling for another temporary extension to keep the government open until mid-January amid a pileup of difficult issues at the end of this year.
Budget Debate
One of the thorniest debates is over spending caps on defense and domestic programs imposed by a 2011 law. House Republicans want to raise the defense cap by as much as $73 billion to $622 billion and GOP conservatives want to hold the line on non-defense programs. Democrats insist that any defense spending increase must be matched with dollar-for-dollar increases for domestic funding.
Officials in the Trump administration and Republican leaders in Congress have indicated willingness to raise some non-defense spending in exchange for spending cuts or fee increases elsewhere, similar to deals reached by both parties in 2013 and 2015. Jones' victory could give Democrats an added edge in talks designed to reach a deal on budget caps in the coming weeks. He'll be present early next January when program-by-program spending details are worked out in a trillion-dollar package.
Under Senate rules, 60 votes will be required to move forward on a spending deal. That means Senate Majority Leader Mitch McConnell will now need the assent of nine Democrats.
Second-ranking Senate Democrat Dick Durbin of Illinois said Republicans also will need Democrats' help if they pass a major tax bill and need to make technical corrections later.
"Here's a news flash: Technical corrections will take 60 votes," Durbin said.
Schumer's 'Veto'
North Carolina Republican Mark Meadows, chairman of the conservative Freedom Caucus in the House, said Jones's election won't make much of a difference.
"I don't know that it impacts what's going to happen legislatively here," he said Wednesday at the Capitol. "Schumer's had an eight-vote veto power, now he has a nine-vote veto power."
Immigration policy has been one of Democrats' biggest priorities since Trump said he would end Obama-era protection against deportation for people who were brought to the U.S. illegally as children. Congress has until March to come up with a legislative replacement for the program, known as Deferred Action for Childhood Arrivals.
Complicating the immigration debate is Trump's demand for $1.6 billion to fund the start of a wall on the U.S.-Mexico border, which Democrats strongly oppose.
Meanwhile, Jones' support for keeping Obamacare unless Congress comes up with what he sees as a suitable replacement could dampen a proposal by Republican Senators Lindsey Graham of South Carolina and Bill Cassidy of Louisiana to turn most health care spending over to the states as an alternative. They've failed to get enough GOP support so far, and losing another Republican seat would make it more difficult next year.
Still, Bob Corker, who is leaving the Senate after 2018, expressed optimism Wednesday. "It's unfortunate for us that we lost an easily attainable seat, but the outcome is good for our country and ultimately good for our party."
— With assistance by Steven T. Dennis, and Ari Natter
Before it's here, it's on the Bloomberg Terminal.
LEARN MORE