Bitcoin Rally Boosts Smaller Cryptos Litecoin, Ether to Records
By
Coinbase app popularity surges as frenzy reaches new heights

Litecoin inventor warns of long bear market after runup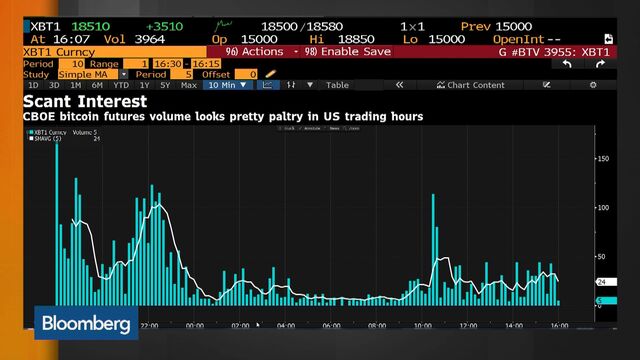 Bitcoin is giving its smaller cousins a hand.
Ether and litecoin, the second and fourth biggest cryptocurrencies, are surging to all-time highs on optimism that bitcoin futures will attract institutions to the fledgling market. The rallies come as speculators flock to Coinbase.com Inc., whose app last week climbed to the top of Apple Inc.'s download rankings. Known mainly as one of the easiest ways to trade bitcoin, the site also provides access to trading litecoin, ether and bitcoin cash.
Litecoin has more than doubled to as high as $401 since Dec. 10, before bitcoin derivatives started trading on Cboe Global Markets Inc., while ether has soared about 40 percent in that time to $633, according to CryptoCompare, a website tracking digital currency prices.
The crush to trade ether as it rallied Tuesday disrupted Coinbase's system, forcing the exchange to issue a notice saying "buys, sells temporarily disabled." The incident persisted for over an hour.

The gains are even beating bitcoin's advance as some traders move into digital assets that have lagged bitcoin's 17-fold rally this year, and as others speculate there is more room to gain because of their smaller market capitalizations. All 20 of the biggest cryptocurrencies are rising today, according to CoinMarketCap, with litecoin advancing the most.
Bitcoin Proxy Stocks Surge in Cryptocurrency Feeding Frenzy
"It's both, people are trading out of bitcoin, and new money coming to the space, and they'll be thinking very simply, 'how do I get more of these extraordinary returns?"' said Charles Hayter, co-founder of CryptoCompare. "It's herd-like mentality that takes off, which is very dangerous."
Even litecoin's creator Charlie Lee is warning that the run up in prices may be overdone.
"Every crypto bull run I've seen has been followed by a bear cycle," Lee tweeted Monday. "The market needs time to consolidate. That's just my experience from seven years of watching this space."
Before it's here, it's on the Bloomberg Terminal.
LEARN MORE