Pence Faces Difficult Middle East Visit After Jerusalem Move
By and
Palestinian protests continue in Gaza, West Bank, Jerusalem

Four Palestinians killed in weekend clashes, air strikes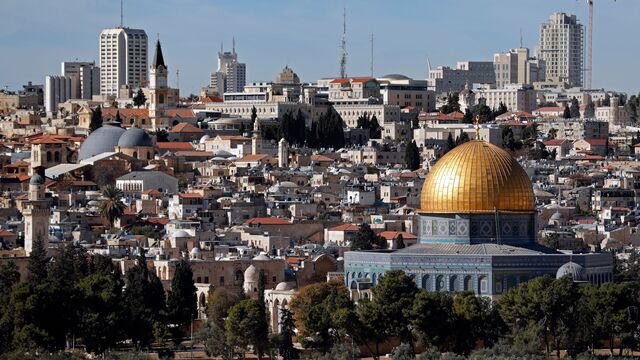 Neither the Palestinian Authority president nor the head of Egypt's Coptic Church plans to meet with U.S. Vice President Mike Pence when he visits the Middle East later this month, to protest the U.S. declaration recognizing Jerusalem as the capital of Israel.
The rejections emerged as Israeli Prime Minister Benjamin Netanyahu headed to Paris for a meeting Sunday with President Emmanuel Macron, where he was likely to be grilled on Israel's plans for the holy city. Netanyahu will meet Monday with EU foreign ministers in Brussels in what is likely to be another tough meeting. 
An Israeli security guard was seriously wounded Sunday in a Jerusalem stabbing that police said appeared to be a terrorist attack. The suspect, a 24-year-old Palestinian man from the West Bank, was apprehended, police spokesman Micky Rosenfeld said by text message.
Scattered protests against the U.S. move continued Sunday in the West Bank. Over the weekend, the Gaza Health Ministry said four Palestinians were killed in clashes with Israeli soldiers or by Israeli air strikes, launched in response to rocket fire on southern Israeli towns.
Netanyahu has praised the U.S. decision, which Trump presented as being in the pursuit of peace, as "courageous" and "just." The decision has been denounced across the Arab world, and members of the UN Security Council condemned the move Friday, saying it contradicted international law and prejudged the outcome of negotiations. Turkey's Anadolu Agency said President Recep Tayyip Erdogan and France's Macron agreed to work together to persuade the U.S. to change its stance.
Two-State Solution
Palestinians claim the eastern sector of Jerusalem, with shrines sacred to Muslims, Jews and Christians, as the capital of a future state. Israel sees the area as part of its capital, but much of the world regards it as occupied territory.
Jerusalem's status must be worked out in peace negotiations with Israel, Palestinian Authority Foreign Minister Riad Malki said Saturday in Cairo. He added that P.A. President Mahmoud Abbas wasn't planning to meet Pence and said the peace process needed a new mediator.
Pope Tawadros II, head of the Coptic Church in Egypt, also won't meet Pence because the U.S. administration's decision fails to take "into consideration the feelings of millions of people," the church said on its Facebook page.
Sheikh Mohamed bin Zayed Al Nahyan, the crown prince of Abu Dhabi, capital of the United Arab Emirates, said Trump's Jerusalem announcement "extended a lifeline to terrorist groups and armed organizations, which have started to lose ground in the region." He expressed hope that Trump would retract it, according to state-run WAM news agency.
Nikki Haley, the U.S. ambassador to the UN, said Friday that the Trump administration supports a two-state solution if agreed to by both parties, and added that an Israeli- Palestinian peace agreement is within reach.
That did little to pacify Muslims. Hamas, the militant group that rules the Gaza Strip and has called for a new uprising against Israel, sent out a leaflet Saturday urging Palestinians to confront Israeli forces. The militant Islamic Jihad in Gaza and other Palestinian factions in the West Bank issued similar calls. Abbas's Fatah movement called for more confrontations this Friday.
Bell Ringing
In Lebanon, protesters tried to break into the U.S. embassy in Beirut on Sunday, a day after army chief General Joseph Aoun instructed the military to be "on alert and prepared to react to possible repercussions of the crisis." He said troops on the country's southern border with Israel should be prepared "to confront any Israeli aggression or any breach of security."
Dennis Ross, a former negotiator on Middle East peace talks who served three U.S. presidents, said Trump's declaration would have been better delivered in the context of a deal that offered Arabs something positive. The issue is "probably the most emotional one of all those involving Israelis and Palestinians," he told Bloomberg TV.
— With assistance by Fadwa Hodali, Saud Abu Ramadan, Dana Khraiche, Inci Ozbek, Nadeem Hamid, Mahmoud Habboush, and Michael Arnold
Before it's here, it's on the Bloomberg Terminal.
LEARN MORE