politics
Trump's UN Allies Blast Jerusalem Move in Emergency Meeting
By
Despite protests, Haley says peace has never been closer

Ambassadors from U.K., Italy, Germany, France criticize move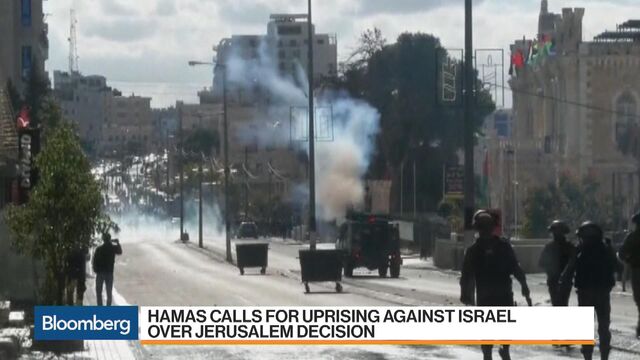 President Donald Trump's decision to declare Jerusalem the capital of Israel and begin moving the U.S. embassy from Tel Aviv drew withering criticism at an emergency meeting of the 15-member United Nations Security Council in New York.
The U.S. decision "risks prejudging the outcome of negotiations" in the Middle East and "contradicts international law," Olof Skoog, Sweden's ambassador to the UN, said on Friday. U.K. Ambassador Matthew Rycroft said the move was unhelpful to peace and that his country considers East Jerusalem to be "part of occupied Palestinian territories."
Nikki Haley, the U.S. ambassador to the UN, reiterated that the Trump administration supports the two-state solution if agreed to by both parties, and added that an Israeli-Palestinian peace agreement is within reach.
"We are more committed to the cause of Israeli-Palestinian peace today than we've ever been before," Haley said. "And we believe we might be closer to that goal than ever before."
Trump said his decision shouldn't prejudge final talks over Israel's borders or sovereignty within Jerusalem. He portrayed the move in a speech on Wednesday as being in the best interests of the U.S. and "the pursuit of peace between Israel and the Palestinians." Even so, Trump's announcement has been denounced by the Palestinians and throughout the Muslim world.
Read a QuickTake Q&A on the 'two-state solution' to Middle East peace
While isolated by even close allies, Haley sought to shift the discussion to the UN's alleged bias against Israel.
"Over many years the UN has outrageously been of the worlds foremost center of hostility towards Israel," Haley said. "The UN has done much more damage to the prospects of Middle East peace than to advance them."
The ambassadors of France, Germany, Italy, Sweden and the U.K. issued a joint statement after the meeting reiterating their opposition to Trump's move.
"We disagree with the U.S. decision to recognize Jerusalem as the capital of Israel," they said in the statement. "The status of Jerusalem must be determined through negotiations between Israelis and Palestinians leading to a final status agreement."
Jerusalem should ultimately be the capital of both Israeli and Palestinian states, the ambassadors said, adding, "Until then, we recognize no sovereignty over Jerusalem."
Secretary of State Rex Tillerson cautioned that any embassy move will still take a while given the complex logistics involved. "It's not something that's going to happen this year or next," Tillerson told reporters in Paris on Friday.
— With assistance by Gregory Viscusi
(
Updates with Haley, ambassadors' statement from third paragraph.
)
Before it's here, it's on the Bloomberg Terminal.
LEARN MORE