Leon Cooperman Loves Navient. He Thinks It'd Be Better Off Dead
By
Calls for company to sell assets, give proceeds to investors

Student-loan giant is down 23% this year as it faces lawsuits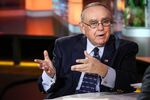 Leon Cooperman loves student-loan giant Navient Corp. So, naturally, he thinks it's time to shut it down.
The billionaire investor believes the nation's second-largest creditor to former college students performs a valuable public service as a federal contractor. He also likes Jack Remondi, the chief executive he calls a "high-quality guy" running a "noble" business.
But the rest of Wall Street -- not to mention the Consumer Financial Protection Bureau and some states -- doesn't share the Omega Advisors Inc. chairman's enthusiasm. The stock is trading at $12.73 per share, about half of Cooperman's $25 valuation and Remondi's "low- to mid-$20" mark. It's also facing lawsuits that accuse it of cheating student debtors, and there's little sign that government scrutiny will recede.
And now Cooperman's also ready to throw in the towel. He's calling for Navient to sell off its assets, give the proceeds to its investors, and shut down.
"If your primary customer sh*ts all over you and you think your stock is worth twice what it's trading for, why not give your owners back their money?" Cooperman said in an interview.
The view reflects a growing frustration with Navient, a firm that, by one measure, has received more of his attention than any other publicly traded company in the U.S. The hedge fund manager has asked questions on seven of the firm's nine quarterly earnings calls over the past two years. No other company has fielded more from Cooperman, a review of transcripts shows.
Optimistic Start
Cooperman's three-year experience with Navient started optimistically in 2014. That's when the Delaware-based firm split from SLM Corp., better known as Sallie Mae. Its strategy at the time was to redirect the proceeds from borrowers' monthly payments to shareholders as its portfolio of loans was slowly paid down, said Michael Tarkan, director of research for Washington-based Compass Point Research & Trading LLC.
But after a rally sent the stock to a high of $22.57 in December 2014, fears that credit raters would slash their grades on student-loan securities led to a selloff that halved its market value by September of the following year. At an investor conference that month, Cooperman questioned why Navient had spent almost $1 billion buying back its shares at an average price close to $20 when the stock was trading around $12. He raised the idea of liquidation and Remondi didn't directly respond, according to a transcript.
Navient spokeswoman Patricia Christel declined to comment, as did board Chairman William M. Diefenderfer III.
More Pressure
Cooperman, who settled an unrelated insider-trading case with the Securities and Exchange Commission this May, kept up the pressure over the next year, regularly pushing Remondi to repurchase shares. The company did just that, continued to offer regular dividends and benefited from the "Trump bump" -- gaining nearly 33 percent in the two weeks after Election Day in 2016 -- before resuming its slide.
Its performance since the day after the election -- a total return of about negative 15 percent -- is second-worst among the 106 financial stocks that are part of the Standard & Poor's 500 and were around at this time last year.
Omega started dumping its holdings. It went from the sixth-largest investor with more than 11 million shares as of the third quarter that year, to now holding a fraction of a percent and 1.8 million shares, according to Bloomberg data.
Multiple Lawsuits
The CFPB and attorneys general of Illinois, Washington and Pennsylvania added to the company's problems this year, suing Navient for allegedly deceiving borrowers.
Shares fell below $12 in October of this year after Navient announced it was halting stock buybacks through the end of 2018, saying it would rather use the money to build a new loan-origination business. On Navient's call that month, Cooperman ripped into Remondi.
"The debate that should be taking place at the board level is whether we should put the company into run-off and return the money to shareholders," Cooperman said, suggesting the money spent on buybacks had been wasted. "You're basically impotent and can't do anything."
Remondi replied that the company was investing in business lines that'll eventually pay off. Navient's "intrinsic" value, he said, is well over $20 per share.
Cooperman isn't buying it, and neither are most analysts if the $16.06 average price target is any indication. Sanjay Sakhrani of Keefe, Bruyette & Woods Inc. has the highest target of eight analysts surveyed by Bloomberg, coming in at $20. He told clients in a recent note that Navient's strategy should boost earnings in time.
Despite his agitation, Cooperman may still be willing to give Navient some time. While maintaining it's better off dead, he said he'll ride it out as long as the company is still kicking.
"I own things that are out of favor where the fundamental value is excellent," Cooperman said.
Before it's here, it's on the Bloomberg Terminal.
LEARN MORE