politics
Dina Powell to Leave White House National Security Post
By
Dina Powell has worked on Kushner-led effort on Middle East

National security staffer Nadia Schadlow may replace Powell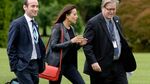 Dina Powell plans to leave her White House job as deputy national security adviser in February, though she will continue to advise President Donald Trump on Middle East policy.
"Dina Powell has been a key, trusted advisor in this administration," White House Press Secretary Sarah Sanders said Friday in a statement. "She has always planned to serve one year before returning home to New York, where she will continue to support the President's agenda and work on Middle East policy. She will serve in the administration until early next year."

Powell, a former Goldman Sachs Group Inc. partner and an official in the George W. Bush White House, has been closely involved with Trump's efforts to broker a deal to end the Israeli-Palestinian conflict.
Powell also helped lead a review of national security strategy to be released in the coming weeks which encompasses the Trump administration's approach to a range of global challenges including North Korea's nuclear program, international terrorism, Russian aggression and China's rising influence.
The national security strategy "is going to be an extraordinarily important document," said Newt Gingrich, who advised on the plan. Gingrich added that he expects Powell will continue to be an influential adviser to the administration from New York. "She has the skills and the energy and the intelligence to be consistently a serious player," he said.
Powell told the president last week about her intentions and he asked her to stay on, said a White House official who asked not to be identified discussing personnel issues. Powell wants to spend more time with her family in New York City, the official said.
Nadia Schadlow, a National Security Council staff member who also worked on the administration's review of national security strategy, is Powell's likely successor, according to a person familiar with the matter.
Jerusalem Decision
Trump son-in-law Jared Kushner, who has led the administration's Middle East peace initiative, said in a statement that Powell "has been a valued member of the Israeli-Palestinian peace team" and "will continue to play a key role in our peace efforts."
That initiative was complicated this week when Trump declared he would recognize Jerusalem as the capital of Israel and move the U.S. embassy there. Trump's action provoked condemnation from Palestinians and leaders in the Arab world and Europe.
National Security Adviser H.R. McMaster said in a statement Powell has been "invaluable member" of the national security team whose "sage advice helped provide options to the President."
(
Updates with Gingrich comment in fifth paragraph.
)
Before it's here, it's on the Bloomberg Terminal.
LEARN MORE