Ex-Minister in Corruption Case Warns Kremlin Elite They Could Be Next
By and
Ulyukayev hits out at Rosneft head Sechin over bribery charge

He faces 10 years in highest-profile prosecution of Putin era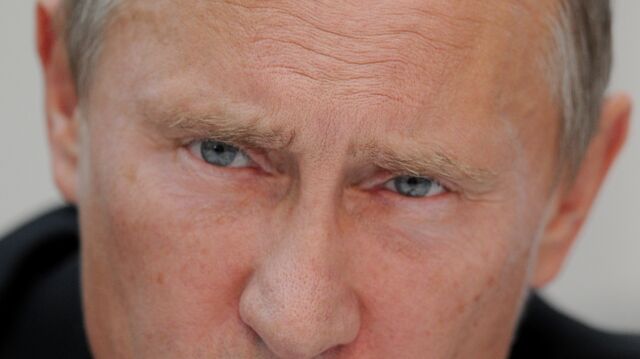 Russia's former Economy Minister Alexei Ulyukayev, the highest-level official charged with corruption under President Vladimir Putin's rule, warned the Kremlin elite that any one of them could be next in the dock.
"It was said a long time ago: send not to know for whom the bell tolls, it tolls for thee," Ulyukayev said in a closing statement Thursday at his trial in Moscow, where he's accused of taking a $2 million bribe. "It can toll for any one of you. It's become very easy: a bag, a basket, a grainy video, three clicks, and it's ready."
Ulyukayev claims he was set up by the powerful head of Rosneft PJSC, Igor Sechin, who masterminded a sting operation that led to his arrest. Sechin repeatedly refused to obey court orders to give testimony in person, citing his work schedule, adding to the intrigue around a trial that's split the Kremlin elite. The case has offered a rare glimpse into the different factions jockeying for position as Putin seeks a fourth term in March elections.
Sechin "vanished like the synergies from the privatization of Rosneft," and "only the smell of sulfur in the air was left," Ulyukayev said, in a reference to The Master and Margarita, the classic Russian novel by Mikhail Bulgakov in which the Devil visits Soviet dictator Josef Stalin's Moscow.
'Cruel Set-Up'
Ulyukayev, who denies the charge, argued that Sechin presented the bribe as a gift of fine wine with the intent to prevent possible opposition to state-owned Rosneft's takeover of regional oil producer Bashneft PJSC last year. He said he'd been the victim of an "horrific and cruel set-up" in a rambling and at times emotional statement, in which he apologized to ordinary Russians for failing to improve their lives.
"It's only when you get into trouble that you begin to understand how hard people's lives are and what injustices they face," he said. "When everything's ok for you, you turn away from human misery. Forgive me for this, people. I'm guilty before you."
Prosecutors are seeking a 10-year sentence in a maximum security prison, something Ulyukayev, 62, said almost equals the death penalty. The Zamoskvoretsky court resumes on Dec. 15 to give its verdict.
Prosecutors say Ulyukayev first approached Sechin on the sidelines of an international summit in India for a payoff to approve Rosneft's purchase of Bashneft, a company Russia seized from billionaire Vladimir Evtushenkov in 2014 after he was hit with money-laundering charges that were later dropped.
Sting Operation
This led to Ulyukayev's arrest in a November 2016 sting at Rosneft's Moscow headquarters organized by Sechin, a veteran of military intelligence who's worked for Putin since the 1990s. Recorded conversations between the two presented as evidence showed an intimate, informal relationship even as conflict brewed over asset sales worth billions of dollars to the government.
Money isn't mentioned in the recording, in which Sechin is heard presenting Ulyukayev with a basket of sausages made from the meat of animals he personally hunted, as well as a locked bag containing the payoff. Federal Security Service agents arrested Ulyukayev as he tried to leave. His defense team argued in court that a bag with that amount of cash would be too heavy to lift easily.
"A young, strong prosecutor could barely lift a bag stuffed with $2 million, while the ageing Ulyukayev, as seen on video, didn't have any difficulties," prosecutor Boris Neporozhny said. "But I say this: it always feels lighter when it's yours."
Rosneft Demand
Ulyukayev maintains the real motivation of the sting was because, as Economy Minister, he could have interfered with the $11 billion privatization of a 19.5 percent stake in Rosneft that earned the state 18 billion rubles less than the government had anticipated when it approved the sale. He argued at the trial that he had no power to block Rosneft's purchase of Bashneft, and so there was no reason for him to seek a bribe.
Ulyukayev isn't the only member of the elite to get into trouble over Rosneft's desire for Bashneft. Shares in Sistema plunged Thursday after Rosneft increased a demand for damages it said Bashneft suffered under Evtushenkov's ownership to 300 billion rubles ($5.06 billion). The claim is more than double the 136 billion rubles awarded to Rosneft by an arbitration court in Ufa in August, a ruling that Sistema's appealing.
Ulyukayev, looking gaunt and tired, appeared resigned to his fate in a court system in which the conviction rate exceeds 99 percent, higher than at the peak of Stalin's purges. However, corruption cases don't always end badly for the powerful in Russia.
Former Defense Minister Anatoly Serdyukov, who was fired by Putin in 2012 amid a $132 million fraud case involving his subordinates, has been rehabilitated and is now a director at Rostec State Corp. He declined to speak to reporters when he was seen Thursday at a meeting with Putin at the presidential residence outside Moscow.
— With assistance by Ilya Arkhipov
Before it's here, it's on the Bloomberg Terminal.
LEARN MORE