Politics
The GOP Must Crack These Four Tax Bill Disagreements
The effort will fail if just three Republican senators vote no.
By and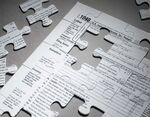 In reconciling their tax bills, the House and Senate may favor the Senate's version since the effort will fail if just three GOP senators vote no. Here are four of the most important points of disagreement.
Individual income tax cuts
The Senate made its individual cuts temporary to comply with deficit limits. Republicans have taken to arguing that future Congresses won't let the individual tax breaks expire.
House: No expiration
Senate: Expire in 2026
Individual tax rates
Lawmakers could raise money for other priorities by adopting the House's higher top rate. Both versions' highest rates kick in at $500,000 for a single filer.
House: Top rate of 39.6%
Senate: Top rate of 38.5%
Alternative minimum tax
Republicans are trying to find ways to end the corporate AMT, which, set at 20 percent, could suppress business spending on research and development.
House: Repeals both the individual and corporate AMTs
Senate: Keeps both AMTs but raises exemption for individuals until 2026
"Pass-through" businesses
The bills use incompatible approaches to lower taxes on pass-through businesses. Lawmakers will have to pick which one to go with.
House: Top rate of 25% for business income reported on personal returns
Senate: 23% of business income can be deducted from taxable income, but no special rate
Before it's here, it's on the Bloomberg Terminal.
LEARN MORE