Banks May Lose Up to 15% of Europe Stock Trading Revenue Under MiFID
By and
Total corporate, investment bank revenue to fall 2.6%

MiFID rules take effect Jan. 3, many firms not prepared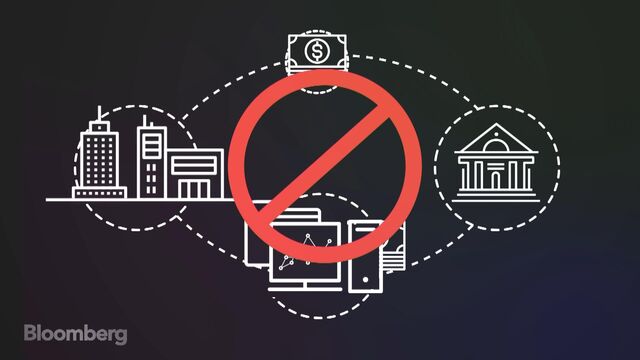 The world's biggest banks may lose as much as 15 percent of their revenue from trading stocks in Europe as a result of new rules overhauling the industry that take effect next month, according to research firm Coalition Development Ltd.
Total revenue from corporate and investment banking across Europe, the Middle East and Africa is forecast to slide 2.6 percent as a result of the revised Markets in Financial Instruments Directive, or MiFID II, including the slump in cash equities, the research shows. Fixed-income trading and banking, which account for the vast majority of revenue, will fall 4.2 percent and 1.7 percent respectively under the rules, Coalition said.
Many companies are unprepared for the impact of MiFID even as the sweeping overhaul of financial rules threatens to upend business models and add to legal and regulatory costs, analysts have said. The regulations, intended to boost transparency and give consumers better control over the fees they're paying, could compound challenges faced by executives at lenders including Deutsche Bank AG, Credit Suisse Group AG and Barclays Plc, who are already struggling to boost revenues in an era of negative interest rates and low volatility.
"Cash equity revenue will decline across the board. Research will be hardest hit as the buy side will cut how much they pay the industry," said Eric Li, research director at Coalition. At the same time, the shift to alternative venues will increase banks' costs, he said. "We will see very painful conversations with banks trying to recover some of these costs via higher fees from their clients."
The decline may take place over two years, the report said. The overall impact of the new rules on banks is limited because cash equities represents just a small part of most companies' revenue, according to Coalition, which tracks the performance of the largest investment banks.
Unbundling Services
MiFID will force buy-side firms to pay for research separately, rather than receiving it as part of a bundle of services in return for paying trading commissions, in an effort to ensure fund companies act in their clients' best interests. The change could reduce incentives for investment companies to trade and prompt them to shop around for the best prices.
Who Wins, Who Loses From MiFID II Shakeup?: QuickTake Scorecard
The stakes are highest for cash equities because research and trading services have historically been more closely intertwined than in fixed income. European institutions paid about $2.9 billion in cash equity commissions for the 12 months through June, according to Greenwich Associates. Of that amount, 46 percent was used to pay for equity research and advisory services. Banks including JPMorgan Chase & Co. have been slashing fees on research to grab a bigger piece of a shrinking pie.
Cash equities, the trading of common stock on public exchanges, has generated about $6.9 billion of revenue for the world's biggest banks so far this year, Coalition data show. Many banks already struggle to turn a profit from the cash equities business, Andrea Orcel, head of investment banking at UBS Group AG, said at an event in London earlier this year. MiFID will make that task harder and is likely to create "concentration" in the market, he said.
In a sign that the consolidation is already under way, France's Natixis SA and Oddo BHF said on Wednesday they're seeking to combine their teams in cash equities to bolster their position as increasing regulatory burdens weigh on European brokers. Natixis would transfer its equity-brokerage and equity-research activities in France to Oddo BHF, and would absorb Oddo BHF activities that give clients advice on capital increases and listings.
"If you think about cash equities, people say the top five clearly break even and everyone else doesn't," Orcel said in September. "I actually think it's inside the top five, the top five doesn't break even. Now you look at this environment. You've just moved the bar up."
Quotes from this Article
Before it's here, it's on the Bloomberg Terminal.
LEARN MORE