Balance of Power: Consequences Come Quickly on Jerusalem Move
By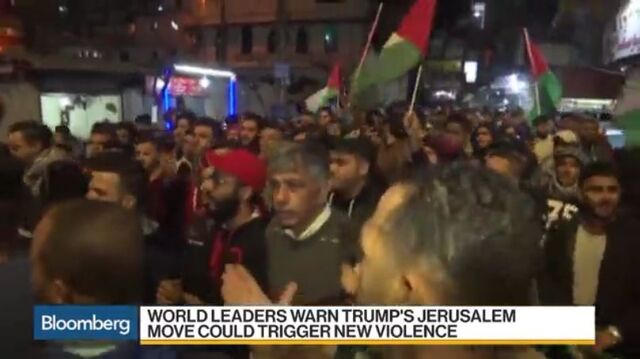 President Donald Trump might have expected Palestinian anger over his recognition of disputed Jerusalem as Israel's capital. Even he may be shocked by the vehemence of the reaction.
Palestinian President Mahmoud Abbas warned the region was heading for "an endless religious war." His chief peace negotiator said Trump had disqualified the U.S. from "any role in any peace process." Then, Hamas's leader called for a third intifada — two previous such uprisings left thousands of fatalities.
Trump sought to temper his move with comments supportive of a two-state solution for Palestinians. It made no difference.
For many Israelis, the president gave voice to what is obvious: The nation's founding father, David Ben-Gurion, declared Jerusalem its capital in 1949. But for Palestinians, who claim East Jerusalem, it's the clearest sign yet the U.S. can't be an honest broker in the conflict.
Last night, small groups burned an American flag in Ramallah. In Bethlehem, they torched pictures of Trump. Lights on Christmas trees in both cities were dimmed in protest. Hamas doesn't speak for all Palestinians but its announcement suggests the coming days might see those peaceful protests swept aside by violence.

Sign up to receive the Balance of Power newsletter in your inbox, and follow Bloomberg Politics on Twitter and Facebook for more.
Global Headlines
Make-or-break funding confab | The success of efforts to avoid a U.S. government shutdown two days from now could hinge on Trump's conversation this afternoon with Democratic congressional leaders. The House is scheduled to vote today on legislation to extend funding through Dec. 22. But minority party support will be necessary in the Senate — and some Democrats are saying they won't vote for a spending bill unless their demands are met.
Trump Jr. staying mum | The president's eldest son, Donald Trump Jr., yesterday refused to answer U.S. House Intelligence Committee members' questions about what he told his father after a controversial meeting with a Russian lawyer in June 2016, citing attorney-client privilege. Democrats say former national security adviser Michael Flynn, meanwhile, promised a business associate that U.S. sanctions with Russia would be "ripped up" by the incoming administration.
More Putin | At the height of his power at home and abroad, Vladimir Putin has no plans to surrender his spot on the world stage. The Russian president told a carefully scripted gathering of factory workers he'll seek another six-year term in March that would extend his rule to 24 years, the longest since Josef Stalin. Though the news was unsurprising, Putin does face growing challenges: a sputtering economy and tensions with the West that are nearing Cold War peaks.
Franken resigning? | Minnesota Senator Al Franken could become the most high-profile political casualty of the wave of recent sexual harassment allegations. Franken is scheduled to announce his plans today after Senate Minority Leader Chuck Schumer joined more than half of the chamber's Democrats in calling for him to step down. Democrats are trying to paint a contrast with Republicans — who have stood behind Alabama Senate candidate Roy Moore.
Macron helps out | When Angela Merkel's push for a fourth term ran into trouble last month, she called Emmanuel Macron. The French president, who has almost as much riding on a favorable outcome to coalition talks in Germany as the chancellor, then got on the phone with Martin Schulz, the Social Democratic leader with the power to keep Merkel in the chancellery. Bloomberg exclusively reports on that conversation and examines the ties that bind Europe's pre-eminent leaders.
And finally... The answer to one of the art world's best-kept secrets has finally been revealed. The Louvre Abu Dhabi is getting Leonardo Da Vinci's "Salvator Mundi," which sold last month for $450 million at auction, the most ever paid for a work of art. And the buyer? The New York Times reports today it's a Saudi prince, close to Crown Prince Mohammed bin Salman, who splurged on the portrait of Christ — at a time when most members of the kingdom's elite are laying low amid a sweeping corruption and self-enrichment crackdown.

— With assistance by Amy Teibel, and Kathleen Hunter
Before it's here, it's on the Bloomberg Terminal.
LEARN MORE