Patagonia Sues Trump Over Bears Ears Monument
By
President plans to shrink Bears Ears and other monument

Outdoors outfitter joins groups claiming Trump exceeded power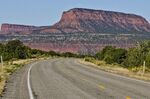 Apparel maker Patagonia Inc. sued President Donald Trump over his decision to reduce the size of the Bears Ears national monument in Utah in a case joined by conservation and preservation groups.
The retailer claims Trump's Dec. 4 decision to substantially reduce the size of Bears Ears --  to about 220,000 acres from 1.4 million acres -- exceeds his authority under the 1906 Antiquities Act. Patagonia has been considered an "activist company" nearly since it was started in 1973 by climber Yvon Chouinard.
Patagonia and the groups are seeking a court order blocking the move, according to papers filed late Wednesday in U.S. District Court in Washington. The suit is at least the fifth to be filed in the wake of Trump's announcement. Other suits were by environmental groups and Native American tribes.

Former President Barack Obama designated Bears Ears as a national monument in December 2016 over the objections of Utah's Republican political leadership. Trump, with the backing of Senator Orrin Hatch and others, substantially undid his predecessor's action with a Dec. 4. proclamation, sparking the legal challenges that followed.
"No president has ever reversed a prior president's monument by wholesale removal of protections for landmarks, structures and other objects of historic or scientific interest," the Patagonia plaintiffs said in their complaint.
The retailer commits 1 percent of its total sales or 10 percent of its profit -- whichever is more -- to environmental groups. Chouinard was a founding member of the organization One Percent for the Planet, which urges other businesses to take the same tack. The retailer markets its clothing as sustainable and has been a pioneer in eco-friendly fabrics, including organic cotton.
Other groups participating in the case are Archaeology Southwest, a preservation group; The Access Fund, a rock-climbing advocacy organization; the National Trust for Historic Preservation; the Conservation Lands Foundation; Friends of Cedar Mesa; The Society of Vertebrate Paleontology; and a Native American conservation group that had lobbied for creation of the Bears Ears monument.
The case is Utah Diné Bikéyah v. Trump, 17-cv-2605, U.S. District Court, District of Columbia (Washington)
— With assistance by Nick Turner
Before it's here, it's on the Bloomberg Terminal.
LEARN MORE