VC Pishevar Accused of Misconduct by Another Entrepreneur
By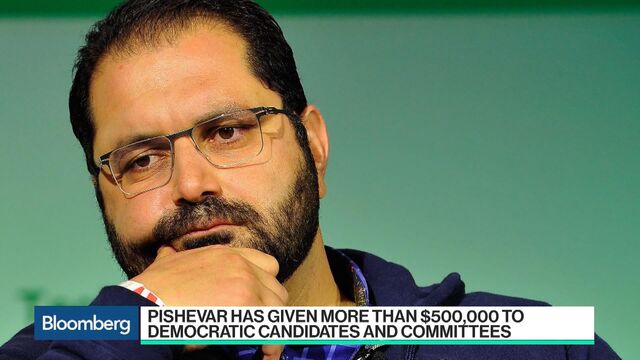 Another woman came forward with a claim of sexual harassment by Shervin Pishevar, a venture capitalist who's on leave from his firms after allegations involving six other women. Laura Fitton, an author and entrepreneur, is the first to speak publicly since a Bloomberg report last week and agree to be named making allegations against the litigious investor.
Fitton said Pishevar misled her into being alone with him in an elevator in December 2011 after a charity event at a hotel in New York. She said he aggressively kissed her and that she pushed him away. Fitton said she followed him to his room expecting a party but found herself alone. Pishevar repeatedly made unwanted advances, and she tried to appease him briefly, not wanting to alienate a powerful business connection, she said. She eventually fled the room.
"Mr. Pishevar unequivocally and categorically denies any improper behavior toward Ms. Fitton," Randa Osman, Pishevar's attorney at Quinn Emanuel Urquhart & Sullivan, wrote in an emailed statement. Osman referenced 10 correspondences between Pishevar and Fitton afterward, including one in 2015 when Fitton apologized for her "brittle response" after the alleged incident four years earlier and called him "very, very special."
Bloomberg reported last week on the accounts of multiple women who say Pishevar used his business or political sway to make unwanted sexual advances. He denied those allegations and said he "will be vindicated" in court. Axios first reported on Fitton's claims Thursday, and Bloomberg spoke to her independently.
Fitton said she apologized years later and tried to maintain a relationship with Pishevar because she relied on his connections for her businesses and believed her experience was an isolated event. She's the author of "Twitter for Dummies" and creator of an app store for Twitter that was acquired by a marketing firm, where she helps organize conferences with high-profile speakers from the technology industry.
Unlike in Hollywood or Washington, where alleged harassers are quickly disavowed, the reaction from prominent figures in Silicon Valley has been more muted. "His denials are why I'm coming forward," Fitton said. "After the deafening silence of the industry and his continued denials, I've come back around. They truly hurt to read."
Last month, Pishevar, an early backer of Uber Technologies Inc., sued a corporate research firm, Definers Public Affairs, claiming it was retained by "business adversaries" to orchestrate a smear campaign to plant false and damaging gossip. Definers, founded by Republican campaign veterans, said it has nothing to do with the accusations and asked a judge to dismiss Pishevar's complaint.
In Definers' court filing, the firm also said Pishevar "used this suit to harass and intimidate one woman whom the press has named as one of his alleged victims by serving her with a subpoena to depose her." Bloomberg's story last week included alleged incidents involving Uber executive Austin Geidt, conveyed by her current and former colleagues. After the report, Pishevar's lawyers asked Geidt to testify, people with knowledge of the matter said. Geidt declined to comment.
Pishevar, 43, said this week he is taking a leave from the venture capital and transportation firms he co-founded. The Iranian-American is one of several technology investors who have been accused of sexual misconduct this year, including Dave McClure, a venture capitalist at 500 Startups, and Steve Jurvetson, another venture capitalist.
Such disclosures have forced Silicon Valley, and other industries, especially in entertainment, to come to terms with issues of gender inequality and sexual misconduct by powerful men. A study published Wednesday by venture firm First Round Capital, showed that half of technology entrepreneurs have either been harassed in the workplace or know somebody who has.
Pishevar was a partner at Menlo Ventures at the time he allegedly harassed Fitton. Menlo Ventures said in a Twitter post that it wasn't aware of any misconduct claims during Pishevar's tenure until Thursday. "We are saddened to hear the stories of the women who have come forward and are thankful for their bravery," the venture capital firm wrote. "Menlo Ventures strongly condemns any inappropriate or disrespectful behavior toward women, in and out of the workplace."
Fitton said after she and Pishevar reached his hotel room that night, she awkwardly fended off his advances while she waited for others to join them and for food to arrive. "My mind was racing the entire time we were in that room together, trying to find a way out of the situation that did not lead to him feeling rejected and angry and therefore cutting me off as a professional colleague," she said.
In the following days, Fitton said she confronted Pishevar over the phone and told him his behavior was inappropriate for an investor interacting with an entrepreneur. He explained he thought they had a special connection, according to Fitton. She said they had barely talked the entire evening and insisted it was an abuse of power. Pishevar apologized and offered to help her career in the future, she said. "I can get you a job anywhere," she recalled him saying.
Pishevar followed up with a text Fitton shared with Bloomberg, where he wrote: "Just want to say thank you for being real with me. I deeply appreciate that. Let's grab a proper breakfast or lunch and share inspiration and advice together. You're an awesome person."
Before it's here, it's on the Bloomberg Terminal.
LEARN MORE