Uganda's Leader Defends Plan to Remove Presidential Age Limit
By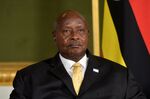 Ugandan President Yoweri Museveni said removing an age limit for the top job, a move that would allow him to seek a sixth term, could help ease what he called a leadership crisis in Africa.
Maintaining the age limit of 75 would deny the East African nation the constitutional right to choose its leaders, Museveni told a parliamentary committee on Tuesday, according to a statement on his website. The committee is studying a proposal to amend the charter, which would clear the way for the 73-year-old, who took power as a rebel leader in 1986 and won a disputed vote last year, to seek re-election in 2021.
"In a continent like Africa where we have had a leadership crisis and still faced with many challenges we need to be flexible, not merely legalistic, and utilize all the potential from both the young and old," Museveni was quoted as saying. "This is because it is more about our safety, survival and prosperity and not who leads us on that journey."
Museveni, a key U.S. ally in the region, became one of Africa's longest-serving leaders, alongside Teodoro Obiang Nguema of Equatorial Guinea and Paul Biya in Cameroon, after a two-term limit was abolished in 2005. The main opposition party has vowed to block the amendment, which needs approval by parliamentary vote, and police have cracked down on some of their rallies and detained members.
Before it's here, it's on the Bloomberg Terminal.
LEARN MORE