Davis Accused of Misleading Parliament Over Brexit Studies
By and
Brexit secretary says economic analysis would be pointless

He had previously claimed to have '57 sets of analyses'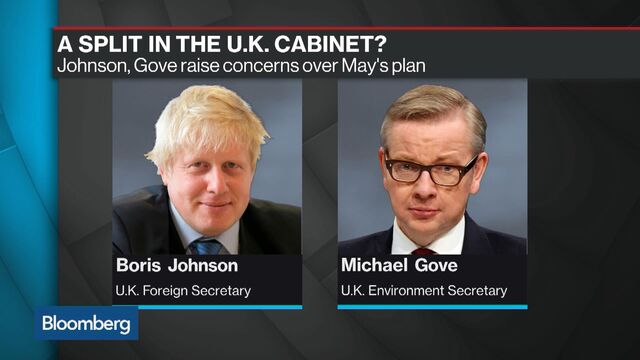 U.K. Brexit Secretary David Davis was accused of misleading Parliament after he conceded that the government has not conducted a sector-by-sector analysis of the impact of leaving the European Union on the economy, following months of claiming that the work was ongoing.
His admission, to a House of Commons committee on Wednesday, was the culmination of a long parliamentary battle. Aside from the question of the government's preparedness for Brexit, it raises the issue of whether Davis has misled parliament, something that could cost him his job.
As long ago as December 2016, Davis told the Exiting The EU Committee that his officials were "carrying out about 57 sets of analyses" that would "cover 85 percent of the economy." In October 2017, he said the work contained "excruciating detail."
The Secret Brexit Studies Saga: Will They Ever Be Released?
Lawmakers have spent months trying to force Davis to release the studies. Davis's counter-argument was that releasing them would compromise Britain's negotiating stance. In October he said it would be "like giving a price list to the other side." Edited versions were finally shown, in private, to lawmakers on Tuesday after a parliamentary vote forced the government's hand.
The Exiting the EU Committee was questioning Davis on the documents they had read. "There are no systematic impact assessments," Davis told the panel, to laughter in the room.
'No'
Asked by Chairman Hilary Benn whether there were analyses of the effects on the automotive industry, aerospace and the financial sector, Davis replied "no" each time.
"The answer will be no to all of them," Davis said. He argued that trying to assess the economic impact of Brexit would be pointless. "When you have a paradigm change, all the models are wrong," he said.
Even backers of Brexit on the committee were unimpressed by what they had been presented with. "In the large part they are fairly anodyne and largely consist of material that I think you could get out of the cuttings file," the Conservative John Whittingdale observed.
Resign?
If lawmakers judge that Davis has misled them, he would have to resign, something that would further damage Theresa May's already weak government. Several Labour lawmakers later asked House of Commons Speaker John Bercow whether Davis was in contempt of Parliament. Bercow replied that he'd wait for the committee's report and then "study it without delay."
In his evidence, Davis insisted he had never claimed to have formal "impact assessments," documents that have a precise definition in Britain. "I have not said that," he said. "Not ever."
He had however allowed lawmakers to believe that some sort of assessment existed.
For instance, in October, Edinburgh lawmaker Joanna Cherry asked him to "release the analysis that your government has carried out in relation to the impact of Brexit on the Scottish economy." Davis replied: "No, we will not publish it."
When questioned in the same session by Labour's Seema Malhotra on what she called "the impact assessments," Davis made no effort to correct her.
On Twitter, Malhotra commented that she'd first been told the government needed a "safe space" to show the studies, "then they delayed in handing them over, then apparently they didn't exist and now haven't even started. Incredible."
Cherry said on Twitter that Davis's comments "would appear to directly contradict what he and other U.K. government ministers have previously told Commons committees. This is pretty serious."
His evidence, she was, was "quite extraordinary."
Before it's here, it's on the Bloomberg Terminal.
LEARN MORE