Trump Says Jerusalem Move Protested by World Leaders Is 'Long Overdue'
By and
Turkey says move could inflame tensions, pope urges 'prudence'

U.S. president expected to declare Jerusalem Israel's capital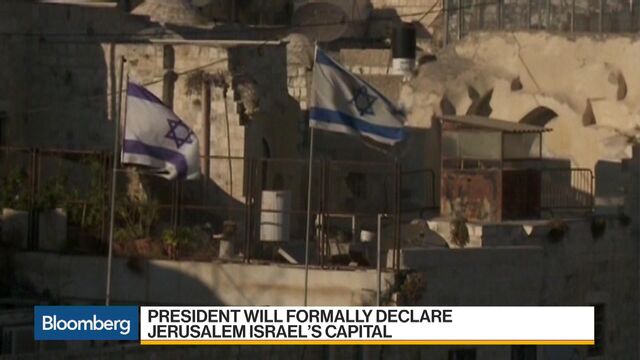 President Donald Trump said his plan to recognize Jerusalem as Israel's capital and move the U.S. embassy there is overdue while world leaders from the Vatican to Tehran denounced his stance as risking fresh violence in the region.
"It's long overdue," Trump told reporters during a Cabinet meeting at the White House Wednesday. "Many presidents have said they want to do something and they didn't."
Trump promoted "a big announcement" when he speaks at the White House at 1 p.m. Washington time, when aides have said he plans to announce his intention to relocate the U.S. embassy in Israel. He added that he will address at that time how he believes his declaration will aid peace efforts between Israel and Palestinians. Other world leaders, including key U.S. allies, have warned the move could bury any hope of resolving the conflict.
At his weekly audience, Pope Francis called on "everyone" to respect the status quo in Jerusalem. He prayed for "wisdom and prudence to prevail to prevent new elements of tension from being added to a global context already convulsed by so many cruel conflicts." He joined a chorus of pleas from European and Muslim leaders to scuttle the move. 
"It is of vital importance for the future of the region and global peace that the U.S. president not make such a statement," Turkish Prime Minister Binali Yildirim said during a trip to South Korea on Wednesday, hours before Trump's announcement. Yildirim said the decision was "unlawful" and "could make already existing problems in the region more tangled." On Tuesday, President Recep Tayyip Erdogan threatened to cut recently restored ties with Israel.
Recognizing Jerusalem as Israel's capital is fraught with religious and political implications because the eastern sector of the city -- home to some of the holiest ancient sites in Judaism, Christianity and Islam -- is also claimed by Palestinians as the capital of a future state. Previous U.S. administrations had resisted moves that could be seen as prejudging the city's final status, for fear of provoking violent reactions, alienating Muslim allies and further tormenting already troubled peace efforts.
Read a QuickTake Q&A on the controversy over Jerusalem's status
Under a 1995 U.S. law that declares an undivided Jerusalem to be the capital of Israel, Trump faced a Dec. 1 deadline to sign a waiver -- required every six months -- to delay the embassy's move, something his predecessors have done for nearly two decades. He'll still sign that waiver, and several more in the years ahead, White House officials said, but he appears intent on getting the process of moving the embassy underway.
Campaign Vow
Trump's exact wording will be scrutinized. Officials who briefed reporters Tuesday suggested the president would hold off on declaring an "undivided" Jerusalem to be the capital or set a specific timetable for when an embassy would be constructed.
Trump's vow to move the embassy was a campaign promise he made, to the satisfaction of Israeli nationalists and supporters including Jewish-American billionaire Sheldon Adelson, who contributed millions to his campaign coffers. Trump's decision to act also comes at a time when an investigation into possible collusion between the president's campaign and Russia before the 2016 election is drawing closer to his inner circle.
Unlike Israel, whose government considers the entire city as its capital, most of the international community regards its eastern sector as occupied territory and says Jerusalem's final status must be negotiated, not unilaterally declared. Palestinians have been stung by Trump's decision, which they see as adopting Israel's position without regard for their own.
Palestinian Prime Minister Rami Hamdallah cautioned that Trump's announcement will not only fuel the conflict with Israel, but kindle unrest across the Middle East. Palestinian factions have called for "days of rage" following Trump's speech, and before he spoke, hundreds protested against the plan in the Gaza Strip.
In other reactions:
French President Emmanuel Macron told Trump on Monday that the prospect of a unilateral declaration concerned him, and also reiterated that the city's status must be resolved through peace talks
Saudi Arabia's foreign ministry expressed its "deep concerns" about the potential move
Egyptian President Abdel-Fattah El-Sisi, in a meeting with Egyptian officials, emphasized the importance of being "cautious" in dealing with Jerusalem, the presidency said in a statement
Iran's Supreme Leader Ayatollah Ali Khamenei called Trump's plan a sign of U.S. "failure and impotence." President Hassan Rouhani called on Islamic countries to unify against this "specious, illegal, provocative and very dangerous decision"
Syria's official SANA news agency cited a Foreign Ministry official calling the plan proof of the U.S.'s "abandonment of its responsibilities as a superpower"
The Arab League will hold an emergency meeting in Cairo on Saturday; the Organization of Islamic Cooperation is scheduled to meet in extraordinary session in Istanbul on Dec. 13
The Islamist Movement, a Jordanian umbrella group that includes the Muslim Brotherhood, called for protests on Thursday in the capital, Amman
Israeli Prime Minister Benjamin Netanyahu has been conspicuously silent on the developments, not even mentioning them at a high-profile conference in Jerusalem on Wednesday. Israel Radio, without saying where it got the information, reported that the Philippines and an unidentified eastern European country wanted to follow Trump's suit in recognizing Jerusalem as Israel's capital.
— With assistance by Fadwa Hodali, Tarek El-Tablawy, Golnar Motevalli, and Dana Khraiche
Before it's here, it's on the Bloomberg Terminal.
LEARN MORE