Business
These Mocktails Are No Shirley Temples
Seedlip's nonalcoholic cocktails taste and feel like the real thing, just without the buzz.
By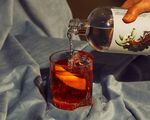 As hipsters rediscover classic cocktails like the Sidecar, their teetotaling friends are stuck with cola, water, or such treacly confections as the Shirley Temple. After one too many mocktails at pubs, Ben Branson decided to create a nonalcoholic alternative to booze that didn't taste like it was made for children. Turning to The Art of Distillation, a spirits-making guide first published in 1651, the former branding consultant began experimenting in his kitchen in a cottage near London. The result: Seedlip, a ginlike drink that aims to deliver the depth of flavor and mouthfeel of a high-end spirit—but with no alcohol.
Introduced two years ago, Seedlip is riding the wave of interest in more healthful artisanal food and drink that's boosting sales of everything from quinoa to craft beer to premium tonic. Branson's brand, which comes with the pretensions of the trendiest small-batch spirits—and the premium price, $55 in the U.S.—is stocked in more than 100 Michelin-starred restaurants. It sells online for more than four times the price of Ginsin, which markets itself as a nonalcoholic gin made with botanicals including hibiscus and lavender. Last year, Spirits giant Diageo Plc took a minority stake in Seedlip. "We know we should be exercising, we know we should probably be drinking less midweek," says Branson, who gave up alcohol about seven years ago. "I wanted to do something about it and solve this dilemma of 'What do you drink when you're not drinking?' "
Nonalcoholic beers—containing less than 0.5 percent alcohol—such as O'Doul's in the U.S. and Germany's Clausthaler have been around for years. But recent entrants like Nirvana Brewery in London are trying to infuse the category with some craft cool, with such brews as Kosmic Stout and Karma Pale Ale. And Danish brewer Carlsberg A/S says European sales of low-alcohol beers such as its 0.5 percent-alcohol Nordic Pilsner rose 13 percent in the first half of 2017 vs. the year-earlier period. Dutch rival Heineken NV is banking on the nonalcoholic Heineken 0.0 it's introduced in 14 countries since last summer. "You know, 25 years ago everyone was drinking alcohol at lunch, and that's quasi-disappeared today," Jean-François van Boxmeer, Heineken's chief executive officer, told investors at a conference in November. "Why not drink a 0.0 beer instead of water?"
If the day of peak alcohol has gone, Seedlip is among the early winners of the morning after. Industry tracker IWSR estimates that global alcohol consumption fell 1.3 percent last year amid growing concern about the effects of excessive drinking. While low- or nonalcohol faux spirits, wine, and beer remain a tiny niche, sales grew almost 5 percent in 2016, researcher Euromonitor International says. At Selfridges, the tony London department store that was the first to stock the drink Branson was bottling by hand in 2015, the initial batch of 1,000 bottles sold out in the store in three weeks, the second in three days, and the third in three minutes online.
It takes six weeks to make Seedlip, named after the baskets that farmers in Branson's home region of Lincolnshire used to sow their grain fields a century ago. The company makes two versions—Garden 108, with hints of spearmint, and Spice 94, redolent of cardamom. The botanicals, from citrus peel to bark, are macerated before being distilled in copper pots much like any liquor. That concoction is boiled down to burn off the small amounts of alcohol used in the process, leaving a concentrated distillate with no potential for getting you drunk. It's blended and mixed with water to create an aromatic liquid akin to gin, which goes down smoothly but still manages to taste and feel something like a stiff drink. Seedlip will release a second alcohol-free drink next spring.
To build interest in the brand, Branson has lined up support from the likes of Joe Hodrien, supervisor at the American Bar at London's Savoy Hotel, which topped the World's 50 Best Bars list earlier this year. Nonalcoholic drinks have "always had a stigma, especially with groups of guys," Hodrien says. "Seedlip's seen as more serious." In March the bar revamped its menu with five Seedlip-based cocktails made with ingredients such as kefir, coffee cordial, and gooseberry jam. About 1 in 5 tables orders a drink made with the stuff, he says. In the U.S., New York's Dean & DeLuca grocery and Dead Rabbit Grocery and Grog bar and San Francisco's Atelier Crenn restaurant stock the brand. Berry Bros. & Rudd, London's most august wine merchant, says Seedlip has seen strong sales since it was added to the lineup last year. And Stuart Elkington, who last year founded a website called DryDrinker.com, says it's among his top-selling products. "There's been a dramatic increase in demand," Elkington says. "The growth is phenomenal."
BOTTOM LINE -
Tapping into the trend of artisanal, small-batch spirits, Seedlip is in the vanguard of a growing cadre of companies offering ersatz booze.
Before it's here, it's on the Bloomberg Terminal.
LEARN MORE