Trump Meets Democrats With Congress Set to Avoid Shutdown
By , , and
Republicans to move ahead with short-term spending measure

Vote on stopgap measure must pass House, Senate by Saturday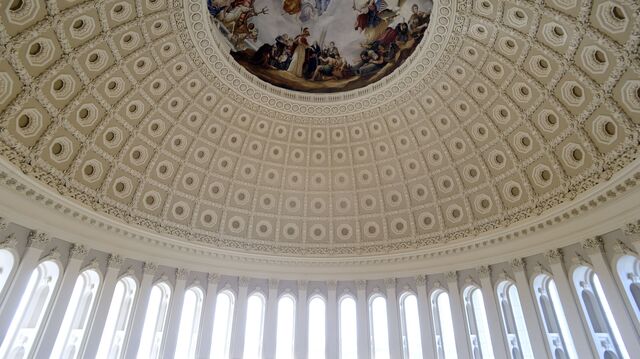 President Donald Trump met with congressional leaders from both parties Thursday to negotiate on a long-term budget deal as Congress prepares to pass a stopgap spending measure to avoid a U.S. government shutdown Saturday.
The House is expected to vote on a two-week spending bill to keep the government open through Dec. 22, with Senate action coming by Friday. That measure is intended to buy time for Congress and the president to agree on overall levels for defense and non-defense spending for the next two years.
"We're all here as a very friendly, well-unified group," Trump said, opening the Oval Office meeting Thursday with congressional leaders. "We hope that we're going to make some great progress for our country. I think that will happen."
Trump said Wednesday that a shutdown could happen Saturday because of Democratic demands. House Democratic leader Nancy Pelosi said that Democrats aren't interested in forcing the government to close. But she said Thursday that House Republicans will have to pass the stopgap funding without Democratic votes, calling the bill a "waste of time" that doesn't include funding for combating the opioid crisis among other things.
Trump met with Pelosi, House Speaker Paul Ryan of Wisconsin, Senate Majority Leader Mitch McConnell of Kentucky and Senate Minority Leader Chuck Schumer. Democrats want any defense increases to be matched with equal amounts of domestic spending, and they want to provide legal status for undocumented immigrants brought to the U.S. as children. Trump and other Republicans say immigration must be dealt with separately.
Democratic Votes
While Ryan said he's confident Republicans can pass the stopgap funding on their own in the House, some Senate Democrats will be needed in order for the bill to meet the Senate's 60-vote threshold for passage. Schumer has not threatened to have his Democrats block the stopgap.
Schumer said Thursday Democrats are working in "good faith" toward a year-end deal that meets some of their priorities. He dismissed as a "ruse" a drive by conservative House Republicans to pair the next short-term spending agreement with long-term funding for the military.
"If a shutdown happens as the president seemed to be rooting for earlier in his tweet this year, it will fall on his shoulders," Schumer said. "His party controls the Senate, the House and the presidency. Nobody here wants a shutdown. We Democrats are not interested in one."
Canceled Meeting
Pelosi of California and Schumer of New York backed out of a meeting with Trump last week after the president bashed them on immigration, crime and taxes on Twitter just hours before it was scheduled to start, saying, "I don't see a deal!" Pelosi responded that "his verbal abuse will no longer be tolerated."
If Trump and the lawmakers can agree on overall budget limits, one option will be to pair the pact with a second short-term spending bill to keep the government open from Dec. 22 into sometime in January. That stopgap measure could be combined with legislation shoring up Obamacare insurance markets and extending a children's health insurance program.
In January, Congress would then hash out the remaining details of a trillion-dollar omnibus spending bill to comply the budget outline. They also are likely to act to raise the federal debt ceiling at the same time.
Read more: What Shuts Down During a U.S. Government Shutdown
House GOP leaders this week overrode conservatives who wanted Thursday's bill to extend current spending for three weeks instead of two, in an effort to gain more leverage over Democrats. Representative Mark Meadows, leader of the conservative House Freedom Caucus, whose members have balked at previous spending bills, said he fully expected Thursday's stopgap measure to pass.
As part of the continuing budget talks, Meadows of North Carolina said the House Freedom Caucus wants to attach the full-year 2018 defense spending bill to the stopgap spending bill that would keep the rest of the government open only until January. The defense measure, H.R. 3219, would give the Defense Department $584.2 billion in discretionary funding and $73.9 billion in war funding -- more than the current $522 billion cap for the Pentagon.
But even if that proposal passed the House, it wouldn't fly in the Senate where Democratic votes are needed to enact spending bills.
Democratic Resistance

Second-ranking Senate Democrat Dick Durbin said his party won't support a full-year defense bill without funding the other government agencies.
"We can't be selective," Durbin of Illinois said in an interview. Democrats' goal is to retain equal funding for domestic programs, he added.
Democratic Senator Jack Reed of Rhode Island said on Tuesday that passing a full-year spending bill only for defense would shortchange other national security operations such as the Federal Bureau of Investigation and activities of the State Department.
Representative Charlie Dent of Pennsylvania, a leader of the moderate Tuesday Group of Republicans, said the Freedom Caucus strategy is doomed and a waste of time. "They will just strip out the defense bill and send it back," he predicted. 
Meadows acknowledged the difficulty, but said the move might succeed if it were paired with aid for hurricane-struck areas and a children's health insurance bill -- both priorities for Democrats.
This week's stopgap spending measure, H.J.Res. 123, would extend children's health insurance funding and the National Flood Insurance Program to the end of this year.
The bill wouldn't raise the nation's debt limit, which is currently suspended and comes back into effect Friday. The Congressional Budget Office has said the Treasury Department can use extraordinary measures to extend borrowing through late March or early April.
— With assistance by John Fitzpatrick, and Jennifer Jacobs
Before it's here, it's on the Bloomberg Terminal.
LEARN MORE