Hedge Funds Try a Quant Approach to Tackling Cryptocurrencies
By
Portfolio to hold mostly digital tokens from secondary market

Of more than 100 crypto funds, only a few use quant strategies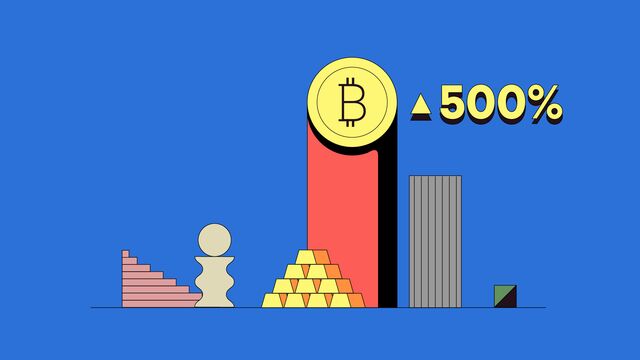 A daring few hedge funds are attempting to apply rules and models to the wildest market out there -- cryptocurrencies.
There are now more than 100 cryptocurrency hedge funds that have launched in the past two years, but only a handful use quantitative analysis techniques, which rely on numbers crunching to identify opportunities and improve returns. The proliferation of portfolios and trading strategies reflects growing investor interest.
One of the most prominent funds taking a quant approach comes from Dan Morehead's Pantera Capital Management, which started investing in bitcoin in 2014. Its first fundraising round closed on Oct. 31, and it started trading last month.
"We expect institutions to get their initial exposure to crypto with this particular fund," Pantera Vice President Paul Veradittakit said in an email. "We believe that investors have different risk profiles, return expectations and liquidity preferences, so we've decided to create a menu of different investments strategies and products to cater to the masses."
The Pantera Digital Asset Fund is the firm's fourth cryptocurrency portfolio and the first to invest mostly in digital tokens trading in the secondary market. The Pantera Bitcoin Fund invests only in bitcoin, the Pantera Venture Fund is a traditional venture capital fund, and the Pantera ICO Fund buys digital tokens before they're issued. The firm is managing over $400 million across the four different strategies.
Crypto Factors
In addition, Pantera is applying factors often used in smart-beta investing, such as low volatility, sizing, betting against beta, and momentum, Veradittakit said.
While quant analysis can help traders exploit "massive inefficiencies" in crypto markets, it will be hard to build models because the data's relatively limited, said Benjamin Dunn, president of the portfolio consulting practice at Alpha Theory, which works with money management firms.
"Not sure how you approach a largely unregulated and emotional market where there's one, very limited history," Dunn said. "I'd be curious how they're able to have any kind of predictability around a very limited data set as usually quaint models require a significant amount of data."
Read More: Even Robots Are Joining the Bitcoin Craze as Quants Seek an Edge
Veradittakit declined to disclose Pantera's quant fund returns, but said the firm tests its models against bitcoin, ether and other top crypto index funds, and "our models have performed very well comparatively," he said.
Bitcoin rallied more than 50 percent in November alone, while the MVIS CryptoCompare Digital Assets Index, which includes the 10 largest cryptocurrencies, soared more than 60 percent. The real challenge for Pantera's robots will come when the tide turns.
Before it's here, it's on the Bloomberg Terminal.
LEARN MORE