It's Only Been Two Months, But Angola Leader's a Bond-Market Hit
By
Eurobonds return 8% since President Lourenco was sworn in

Emerging-market bonds returned an average 0.3% in the period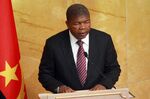 He's only led Angola for a couple of months, but bond investors already like what they've seen from Joao Lourenco.
Angola's $1.5 billion of bonds due in 2025 have returned 8 percent since Lourenco was sworn in as president on Sept. 26, replacing Jose Eduardo dos Santos, who had ruled the OPEC member and former Portuguese colony since 1979. That's a better performance than any other country in the Bloomberg Barclays Emerging Markets USD Sovereign Bond Index, which includes debt from more than 70 nations.

It's not just down to oil prices rising about 5 percent in the period -- the bonds of other major producers such as Mexico, Russia and Saudi Arabia have barely budged. Overall, Eurobonds issued by emerging-market governments returned an average of 0.3 percent.
Lourenco, 63, has moved fast to assert his authority in Angola, which relies on crude for about 90 percent of exports and ranks among the 15 most corrupt countries in the world, according to Transparency International. He has replaced the heads of the central bank, state oil company Sonangol and diamond firm Endiama, and started opening up the telecommunications sector to more competition.
The central bank, under new Governor Jose Massano, raised the main interest rate by 200 basis points to 18 percent last week as it looked to combat inflation of almost 30 percent. It may be a precursor to a weakening of the kwanza, according to Standard Bank Group Ltd., which says the currency is overvalued.
"While one could point to market ebullience due to elevated oil prices as a factor underpinning these bonds, the market might be getting more constructive on the policy outlook," Dmitry Shishkin, the head of quantitative strategy at Standard Bank in London, said in a Nov. 28 note. The government has "hit some of the right notes, pointing to a desire to improve debt sustainability, cut some expenses, issue another Eurobond and continue with the reform of Sonangol."
Before it's here, it's on the Bloomberg Terminal.
LEARN MORE