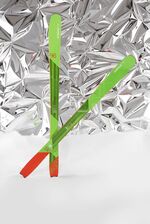 The Characteristics
Elan d.o.o., the only major ski manufacturer in Slovenia, was founded in 1945. In 1988 it famously introduced the first pair of hourglass-shaped parabolic skis, which make it easier to turn at low speeds. In 2015 the company reaffirmed its position as an industry innovator by designing the off-piste-friendly, all-mountain Ripsticks with a designated left and right ski. The inside turning edges of the $800 skis are built with traditional camber construction, providing ample grip on ice, and the tips of the outside edges are bent upward like a rocker for an easier glide through variable snow.
The Competition
All-mountain skis, meant to perform under a wide variety of conditions, are the largest category on the market. The $799 Nordica Enforcer 100s have a more traditional metal construction, which yields a dampened feel. At $650, the narrow Blizzard Brahmas are adept at making tight turns on groomed trails or between trees. Retailing for $1,150, the handmade, burly Kastle BMX 105 HPs charge hard in open terrain. The Ripstick 96s, with paulownia, poplar, and birch wood cores, fall near the middle of the price range.
The Case
On the slopes, the skis are light, easy to maneuver, and extremely forgiving. Even if you're caught off-balance and in a potentially perilous situation, the carbon tubing along the edges makes it easy to muscle around and regain your line. That said, the Ripsticks have plenty of power. On groomed trails in Utah's Deer Valley they made clean, racelike arcs; on moguls at nearby Snowbasin they provided plenty of pop in and out of turns; and in Wyoming's Jackson Hole they were wide enough to float in about a foot of powder. That kind of range gives the skis great value, whether you're an intermediate or expert. $800
Before it's here, it's on the Bloomberg Terminal.
LEARN MORE