Brexit Bulletin: Revolt From Within
By
Johnson and Gove object to May's plan to stay close to EU rules

Davis speaks today; two key meetings in Brussels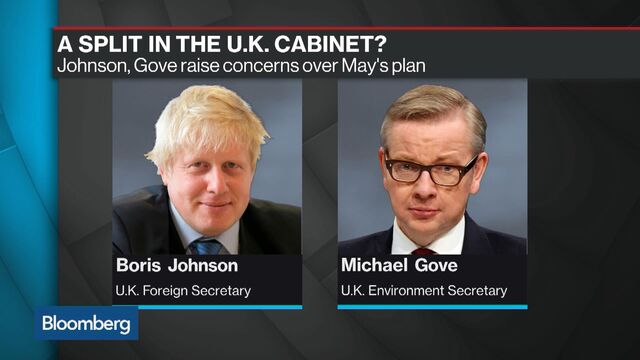 Sign up to receive the Brexit Bulletin in your inbox, and follow @Brexit on Twitter.
Theresa May had been expected to head back to Brussels on Wednesday to finish the divorce deal that was interrupted Monday. Instead, she's facing a revolt by the two leading Brexit backers in her Cabinet, Boris Johnson and Michael Gove.
Hours after Brexit Secretary David Davis proposed a possible solution to get talks back on track, Foreign Secretary Johnson and Environment Secretary Gove made clear they weren't happy, Tim Ross reports.
Davis told Parliament he wanted the U.K. to remain close to European Union economic regulations after Brexit, a proposal that aimed to solve the intractable Irish border issue and satisfy Brussels just days before a final negotiating deadline. Johnson and Gove, who together led the Brexit campaign in last year's referendum, raised concerns about the plan, according to people familiar with the matter.
The ministers believe the proposals threaten to dilute Brexit, and Johnson laid out his fears during a meeting of May's Cabinet on Tuesday. Part of the narrative in the last 18 months has been that the split will allow the U.K. to break free from EU rules and chart its own course with free-trade deals around the world. 

So May is once again fighting her Cabinet while she's also trying to get the Northern Irish Democratic Unionist Party, which props up her government, back on her side. That would let her come up with solutions to take back to Brussels. The EU says this week is the "deadline of deadlines" if May wants to move talks on to the crucial matter of trade by year end. If she fails, voices in the U.K. calling for her to walk away without a deal will grow louder, and even without a walkout the chances of a messy split rise dramatically. The U.K. leaves in March 2019, with or without a divorce agreement. 
Davis's proposal was also an attempt to defuse a potential constitutional crisis. The suggestion that the Brexit deal would leave Northern Ireland aligned with EU rules so as to avoid a manned border on the island of Ireland prompted outrage in Belfast, because it would inevitably cut Northern Ireland off from the rest of the U.K. across the water. But it also prompted anger in the Scottish Conservative party and among English Tories, who reminded May that the full name of her party is the Conservative and Unionist Party. At the same time, Scottish nationalists and London's mayor said that if Northern Ireland could stay aligned with the EU then they should be able to as well. 
Why Ireland's Border Is Brexit's Vexing Puzzle: QuickTake Q&A
Davis will have more to say on this when he speaks to lawmakers at 9:15 a.m. in London. Meanwhile in Brussels on Wednesday there are two key meetings: The executive's commissioners meet to discuss Brexit and so do the envoys of the 27 national governments. If Monday had gone according to plan, this was when the EU side was supposed to start getting its conclusions prepared for the summit of EU leaders later this month. It hasn't quite worked out that way.
Brexit Latest
Bad Deal | British voters increasingly think Brexit is being mishandled. But that doesn't mean they're turning their backs on the idea of abandoning the EU – just on May's Conservative government. A report by the National Centre For Social Research published Wednesday found that 52 percent of people believe the country will get a bad deal, compared with 37 percent in February. According to John Curtice, professor of politics at Strathclyde University, it suggests that rather than regretting their vote, Leave supporters are coming to see it as a good idea badly implemented. That could help the Labour Party.
"There's a section of the pro-Remain group who think that as people see the Brexit process unravel, they will come to the conclusion that it was a daft idea," he said. "Instead, they seem to blame the politicians for failing to deliver."

Hammond's Pitch | Chancellor of the Exchequer Philip Hammond tried to reassure the world of finance about his government's aim to preserve London as a world-leading financial center. "I have every confidence that we will reach an outcome that supports the U.K.'s position as the number one global financial center," Hammond told a finance-industry dinner. He also hinted at the regulatory alignment Davis had mentioned earlier.
"No existing trade agreement, nor third-country access to the EU, could support the scale and complexity of reciprocal trade in financial services that exists between the U.K. and the EU," he said. "We must develop a new paradigm for our future trading relationship in financial services."
Bombardier Against Borders | Bombardier Inc., whose Belfast aircraft plant is Northern Ireland's biggest manufacturer, said it's against any moves toward a Brexit deal that would effectively redraw the U.K.-Ireland border in the Irish Sea. Rather than benefit from a settlement keeping the province in a customs union with the Irish Republic to preserve boundary-free travel, the Belfast site, which employs 4,200 people, would find its day-to-day imports tied up in red tape and delays, the head of the operation said.
Details of the Deal | The 15-page negotiating text that was circulating on Monday contained more taboo-busting compromises than the ones that enraged the DUP, reports Politico. According to the text, the U.K. would pay no upfront Brexit divorce bill to the EU but instead continue to act "as if it remained a member state" by meeting its ongoing liabilities as and when they arise for decades to come, Politico says.
On the Markets | The pound weakened for a second day on Wednesday, amid the cabinet infighting just days before the deadline. Sterling traded at $1.3423 early on Wednesday.
And Finally...
The Brexit-related slump in the real estate market has done nothing to deter a seven-year-old U.S. startup that offers flexible office space to workers. WeWork has become the biggest private tenant in London, just three years after entering the British capital.
WeWork's success in London depends on demand for flexible office space growing fast enough to keep rental income above the historically high rates the company pays to lease its properties. While the company has acknowledged that Brexit poses economic risks, it also says that uncertainty surrounding the move will support its business as companies remain wary of long-term commitments.

For more on Brexit follow Bloomberg on Twitter, Facebook and Instagram
Before it's here, it's on the Bloomberg Terminal.
LEARN MORE