Bear Stearns' Last CEO Tries to Keep Guggenheim Together
By and
Endowment consultants caution clients about investing in firm

Schwartz sends companywide memos to assure staff and lift mood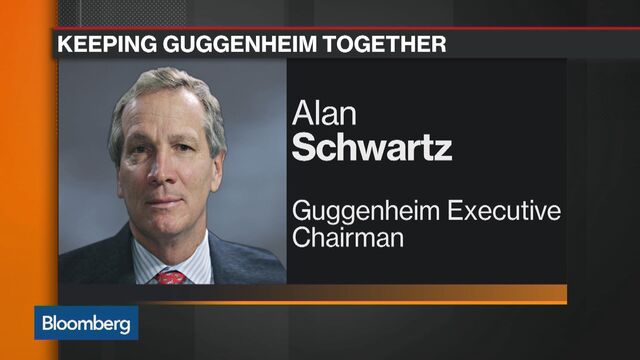 Alan Schwartz didn't sign up for this.
Not at 67, almost a decade after going down as the last chief executive officer of the ill-fated Bear Stearns Cos.
But the straight-talking dealmaker has landed in the eye of yet another Wall Street storm -- this time at Guggenheim Partners, the $295 billion investment firm.
Inside Guggenheim, Schwartz is seen as trying to instill peace among rival factions, lift the mood and keep more staff from leaving. Outside, he's stepping up to counter a prevailing narrative of turmoil that's causing concern among clients.
"We have 2,300 employees," Schwartz said in a telephone interview. "There's always going to be pockets where there's a problem. This one's a little more acute than normal. But the business is doing great."
This isn't quite what Schwartz had in mind in 2009, when he was brought in to start an investment-banking arm that would capitalize on a lifetime of relationship-building with some of the world's most prominent moneymakers. He did just that in the eight years since, winning spots on about $472 billion in deals, Bloomberg data show.
Uncomfortable Spotlight
Schwartz's division is walled off from the rest of Guggenheim. Conflicts surrounding Mark Walter, the CEO, and Scott Minerd, its star investing manager, have thrust the firm into an uncomfortable spotlight. At the center of it are questions surrounding Walter's push to promote Alexandra Court to oversee relations with Minerd's institutional clients, despite her lack of Finra credentials for the post. Guggenheim is also getting questions from U.S. regulators, who are looking at the appropriateness of some investments.
Investors including the South Carolina Retirement System, Sonoma County Employees' Retirement System and University of Maine System have expressed concerns. NEPC LLC, which consults for institutional clients with a total $950 billion, is not encouraging new investment in Guggenheim.
"Although Guggenheim has dismissed many of the speculations, from our conversations we think the situation at the firm is not great and the work environment there has indeed deteriorated in the recent months," NEPC said in a note to the Maine endowment.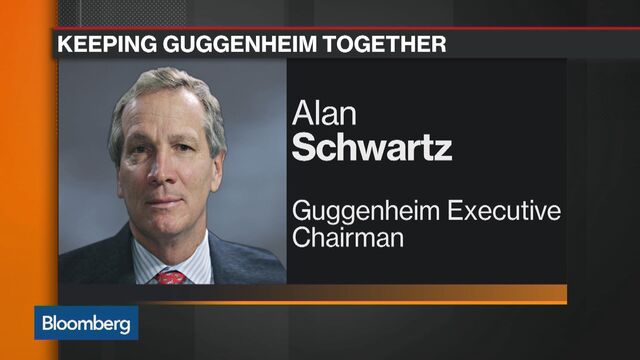 Companywide Memos
Guggenheim values its relationships with its clients and consultants and is "committed to addressing any questions they may have, and to resolving any concerns," Minerd said in an emailed statement.
Schwartz sent companywide memos that defended Walter and Minerd and disputed news reports on Guggenheim's ties to some deals that could benefit its executives ahead of clients, which is said to have attracted scrutiny from the Securities and Exchange Commission.
As the firm seeks to regain its course and quell staff departures -- more than 60 have left in two years -- the Brooklyn native and son of a traveling salesman is seen as filling a leadership void. Schwartz, who attended Duke University on a baseball scholarship, landed in finance after a pitching arm injury ended a future career with the Cincinnati Reds.
"Alan can manage through and really be a difference-maker in a firm that is going through a turbulent time," said Doug Atkin, a former portfolio manager at Guggenheim who left in 2014 to start his own business.
Bear Falls
At Bear Stearns, Schwartz led the investment-banking division, which wasn't exposed to the firm's fateful subprime-mortgage bets. He became CEO in an 11th-hour effort to turn things around, reassuring the public that the bank's problems were fixable.
Schwartz told CNBC in March 2008 that its "liquidity cushion" was sufficient to weather the credit-market contraction. Bear Stearns, then the fifth-largest U.S. securities firm, had to seek emergency funding two days later. Schwartz then said that the bank had been the subject of market rumors, shepherding a deal to sell to JPMorgan Chase & Co. and avoid bankruptcy.
While Bear Stearns became a symbol of reckless risk-taking on Wall Street, Schwartz emerged with a dedicated fan base.
Unwavering Devotion
"He's smart, he's trusted," said Gary Parr, an executive at Apollo Global Management who helped advise Schwartz on the sale to JPMorgan. "When I think about what mattered then and what matters today, it's that he's a quality leader."
Schwartz has held onto clients like Verizon Communications Inc., Walt Disney Co. and Pfizer Inc. since the 1990s. And many of his underlings say that working for him was the biggest reason for joining Guggenheim. What they describe is a culture of unwavering devotion to the executive that has defined his four-decade career.
When Schwartz's son was facing an illness many years ago, people lined up to donate blood, one employee said. Another described Schwartz as the kind of guy you'd want as your father-in-law.
"Loyalty is a two-way street," said Fares Noujaim, who worked for Schwartz at both Bear Stearns and now Guggenheim. Schwartz arranged for a Marine helicopter to lift the banker and his family out of Lebanon during a 2006 war with Israel. "He's fiercely loyal," Noujaim said.
Firm Defender
That's proving true at Guggenheim's executive level, with Schwartz becoming one of the firm's strongest defenders. Privately, he's voiced frustrations about negative attention from the Court saga and her too-close ties with Walter, according to people familiar with the conversations who asked not to be identified because the information is private.
Walter, Minerd and Schwartz often argue before coming to agreement from their respective offices in Chicago, Los Angeles and New York. Schwartz said Minerd is one of the best chief investment officers in the business, and called Walter a "financial genius and entrepreneur."
Walter formed the company under the storied Guggenheim brand and still oversees all of its businesses. Minerd's group runs $243 billion in assets, and Schwartz built out the investment-banking arm, Guggenheim Securities.

While Schwartz's securities division has doubled its staff since 2012, some of Guggenheim's high-level departures have been traders and analysts in his unit, such as Matt Johnson, a Barclays Plc veteran, and the Washington Research Group, which joined in 2011. At least two major Wall Street recruitment firms started avoiding Guggenheim because of the turnover in sales and trading, according to people with knowledge of the companies.
Big Deals
That hasn't seemed to impact Schwartz's deals business. The investment bank advised on 19 U.S. deals this year, according to Bloomberg data, including one of the biggest acquisitions, Discovery Communications Inc.'s $14.6 billion agreement to buy Scripps Networks Interactive Inc. That's built on recent success that was highlighted by an advisory role on the $130 billion Verizon takeover of Vodafone Group Plc assets in 2013. Revenue at Guggenheim Securities jumped 13 percent in 2016, to $580 million, according to a shareholder letter.
Guggenheim Securities has also found opportunities dealing in opaque parts of the market, filling in gaps left by big banks, which face stricter rules since the financial crisis. It's become a top underwriter of corporate loans packaged into complex debt.
Guggenheim is far from Bear Stearns both in size -- last year, the asset management and investment banking units produced $1.3 billion in revenue, one-seventh of Bear Stearns's peak -- and in the way it has shied away from leverage. But the dysfunction within its walls is interfering with what is likely Schwartz's last Wall Street act. The firm's investment bank is his legacy, one he hopes will continue to operate with or without him.
"At this stage of my career, I get more credit for things that other people do," Schwartz said. "It's not just what I do, it's what we do. It's our whole culture."
Before it's here, it's on the Bloomberg Terminal.
LEARN MORE