A Martin Shkreli Trial Without the Outbursts, Anger or 'Trashy'
By
Revelations damage witness credibility, expose weaknesses

Greebel's trial drawing to a close as Shkreli is locked up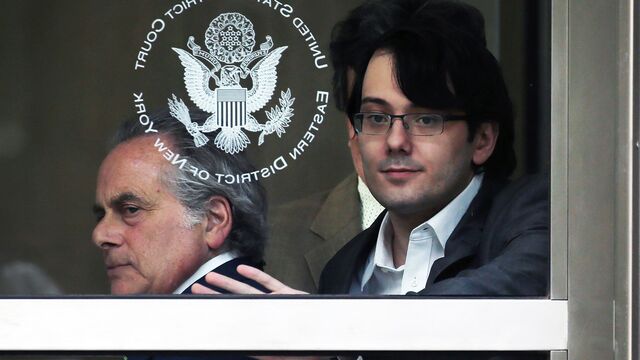 What's a Martin Shkreli trial without Martin Shkreli?
Maybe an acquittal.
With the brash biotech founder confined to a cell block, a virtual repeat of his trial is playing out in federal court in Brooklyn, New York -- this time against Evan Greebel, who did legal work for Shkreli's companies. 

Greebel is accused of helping Shkreli craft sham settlement and consulting contracts to repay investors using assets from a drug company, Retrophin Inc., and of aiding him in a share-manipulation scheme. During the past six weeks, a parade of investors, board members and consultants who testified against Shkreli have reappeared as witnesses against Greebel. 
Greebel's lawyers have dug up more dirt on the witnesses and exposed bigger weaknesses in the government's case. Shkreli, a founder of two hedge funds and drug companies Retrophin and Turing Pharmaceuticals AG, was convicted in August of three criminal charges, including defrauding his investors, but acquitted of five others, including stealing assets from Retrophin.
Shkreli Lawyer, on Trial Himself, Seeks Distance From Shkreli
The defense lawyers have another factor on their side: Their client, a taciturn 44-year-old former corporate attorney, is nothing like the 34-year-old Shkreli.
Shkreli's trial was full-on media circus, highlighted by a rebuke from the judge after he burst into a room where reporters were congregating and described Brooklyn prosecutors as "junior varsity." Expressive and prone to fidgeting, Shkreli spent much of the proceedings smirking, sneering and playing with his hair.
After court, he would return to his apartment, turn on a web camera, and broadcast his thoughts about the case, often while rolling his eyes and cradling his cat, "Trashy."
Widespread contempt for Shkreli, who was dubbed "Pharma Bro" in the press for his aggressive drug-pricing and outrageous behavior, complicated jury selection. Many potential jurors said they felt too biased against him to serve, with some calling him a "snake," and "the face of corporate greed in America."
Greebel's trial has had none of that to distract from evidence of complex financial matters. A casual observer would have a hard time identifying the defendant, whose lawyerly suits and sober demeanor make him almost indistinguishable from the defense team. Greebel worked for Shkreli's companies from 2011 to 2015.
Tactical Win
The defense scored a tactical win in April when Greebel and Shkreli persuaded the judge to separate their cases. Now, along with distancing himself from Shkreli, Greebel's lawyers are at work poking holes in the government's case. A challenge for prosecutors in both trials is proving Shkreli committed fraud though none of his investors lost money, and some even ended up with handsome returns.
"Evan Greebel never should have been charged," defense lawyer Randy Mastro told the judge on Wednesday after prosecutors rested their case and the defense sought a dismissal. "Witness after witness" who testified "had virtually nothing to say about Evan Greebel," he said. "It was Shkreli every day."
Ben Brafman, a lawyer for Shkreli, declined to comment on Greebel's defense. Shkreli is scheduled to be sentenced next month.
One witness at Greebel's trial, but not Shkreli's, was Al Geller, who invested $1.5 million with Shkreli and ultimately collected $15 million from a consulting agreement and 300,000 shares from Shkreli's holdings. Geller, who agreed to testify after prosecutors said they wouldn't charge him, said he was unsure whether the consulting deal was legitimate.
"There was a little bit of gray in it," said Geller, who provided "coaching" and mentoring to Shkreli. "I didn't think it was illegal."
Martin Shkreli's Fall: Why 'Most-Hated' CEO Is Strutting to Jail
Fresh revelations have tarnished the credibility of other government witnesses at Greebel's trial. An accountant who reviewed Retrophin's financials before the company went public in 2012 acknowledged under cross-examination he had engaged in a possible ethical breach by loaning $200,000 off-the-books to another client of his. A former compliance employee who reported Shkreli to the Securities and Exchange Commission after being asked to handle what he described as questionable transactions was accused by Greebel's defense lawyers of committing cyber-crimes.
The accountant, Corey Massella, recounted the messy state of Retrophin's finances before it went public and unexplained share transfers involving Shkreli and others at the company. In one email to Retrophin employees, expressing exasperation, Massella wrote "WTF?"
When defense lawyer Reed Brodsky asked Massella about the loan, he said that his accounting firm was unaware of it and that he left after the deal came to light. The disclosure, unmentioned at Shkreli's trial, could cause jurors to question Massella's honesty more than in the previous trial.
A short time later, the former compliance employee was accused by a defense lawyer of committing cyber-crimes by hacking into computers to obtain evidence against Shkreli. In a dramatic moment, the judge quickly appointed a lawyer, who advised him to invoke his right against self-incrimination.
"The government should not be permitted to use documents that are the result of federal crimes," Brodsky told U.S. District Judge Kiyo Matsumoto.
Less Evidence
Perhaps most damaging: There is simply less evidence to tie Greebel to the misdeeds. Several witnesses said they had limited interactions with him.
"Am I correct, sir, that you did not have any substantive conversations with Evan Greebel about your consulting agreement?" Mastro asked an investor who testified at both trials that he was defrauded by Shkreli, then paid back through a sham consulting agreement.
"Correct," the investor, Darren Blanton, replied.
Emails between Greebel and Shkreli displayed by prosecutors show the two going back and forth over how to handle the deals. Retrophin's former chairman, Steven Richardson, and chief executive officer, Steve Aselage, said Greebel seemed to show more loyalty to Shkreli than to the company, especially as Retrophin sought to fire him.
"There were serious faults with the agreements, including lack of board approval, so perhaps a second go isn't the worst idea," Shkreli told Greebel in one exchange.
"That will open up some very big issues," Greebel replied. The company's auditor "would get very spooked with what you are talking about (which could spook your investors and counter parties)."
Quotes from this Article
Before it's here, it's on the Bloomberg Terminal.
LEARN MORE