markets
U.S. CEO Optimism Strongest Since 2012 on Sales, Investment
By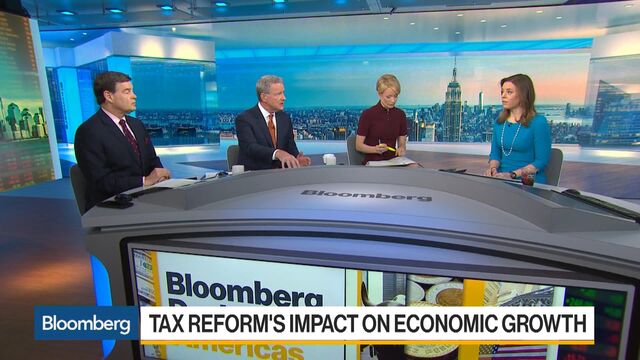 Optimism among chief executive officers of large U.S. companies rose to the highest in almost six years, as the outlook for capital spending improved, a Business Roundtable survey showed Tuesday. Hiring plans eased as wages became the top cost pressure.
Highlights of CEO Economic Outlook (4Q)
Index advanced to 96.8, highest since 1Q 2012, from 94.5; readings above 50 indicate expansion
Gauge of capital spending plans in the next six months increased to 92.7, highest since 2Q 2011, from 86.4; sales outlook rose to 122 from 116.9
Measure of hiring expectations fell by 4.5 points to 75.7
CEOs identified labor as biggest cost pressure, first time in six years that regulatory costs weren't the top answer
Key Takeaways
The latest quarterly report on the Washington-based group's index extends a run of strong readings since Donald Trump was elected president last year, with his administration and congressional Republicans supporting an agenda of deregulation. Trump and GOP lawmakers are moving to enact a tax-cut plan that aims to spur growth to 3 percent annually, though many analysts expect any economic boost to be modest.
While sales expectations improved in the survey, the gain in the capital spending subindex reflects an increase in respondents who expect no change in U.S. investment and fewer CEOs projecting a decline. In addition, the share who expect their company's U.S. employment to decline in the next six months rose to 18 percent from 13 percent, while the proportion projecting an increase held at 43 percent.

Official's Views

"The U.S. economy is strong, and business leaders are increasingly confident in continued economic growth," confidence that "rests on the pro-growth economic agenda of policy makers," JPMorgan Chase & Co. CEO Jamie Dimon -- who serves as chairman of the Business Roundtable -- said in a statement. "To continue this momentum, it is critical that we enact pro-growth tax reform that will level the playing field for U.S. business to be globally competitive."
Other Details
CEOs project U.S. economic growth of 2.5 percent for 2018; 3Q survey showed 2.1 percent forecast for 2017
In an annual special question about greatest cost pressure facing their company, 31 percent said labor; 26 percent said regulatory; 15 percent said materials; 13 percent said health care
The survey, with responses from 150 member CEOs, was conducted between Nov. 2 and Nov. 17
Before it's here, it's on the Bloomberg Terminal.
LEARN MORE