Trudeau's Beijing Scramble Is Canada's Latest Trade Stumble
By and
Canada teed up 'objective' of China trade talks to no avail

Leaders downplay tension; official holds out hope for progress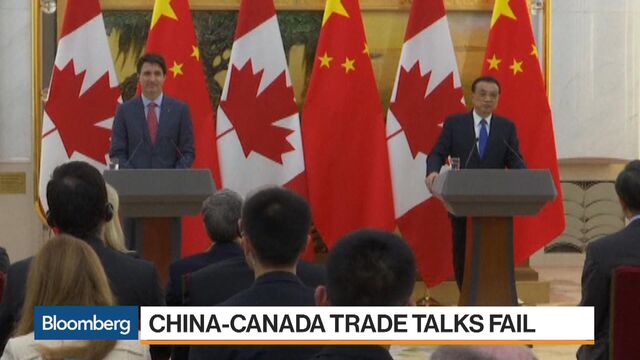 Monday could have been a turning point in China-Canada relations. Instead, it was a false start.
Prime Minister Justin Trudeau's latest trip to China was preceded by a slew of signals that the countries would launch free-trade talks. Canadian lawmakers said flatly that was the goal; exploratory talks had just wrapped; Canada released a public consultation teeing things up; and Trudeau's trade chief, Francois-Philippe Champagne, spoke about the allure of the Chinese market -- while also warning no decision had been made.
Then came Monday, the first day of Trudeau's state visit. A scheduled press conference with Premier Li Keqiang was scrapped as China and Canada bickered over the format of the event. Chinese officials blocked Canadian media. When Li and Trudeau finally emerged, they gave statements, announced smaller agreements and didn't launch talks.
It's a setback for Trudeau as he advances a "progressive" trade agenda that emphasizes matters like the environment, labor and gender as an antidote to populist backlash. He is finding it's a tough sell, as China tends to prefer pared-down trade deals that skirt such issues. 
Canada angered Japan last month by balking at a deal to salvage the Trans Pacific Partnership, and is pressing to add similar elements to the North American Free Trade Agreement, which U.S. President Donald Trump has threatened to quit. This time around, it's unclear which nation balked.
Read more about how Canadians view free trade talks with China
Trudeau told reporters Tuesday in Beijing that he would continue to discuss a free-trade agreement with China "as the next step in the larger framework of our partnership." "That is something that we are very much interested in, that we know China is very much interested in," he said.
The two countries had been in talks through Monday on whether to launch full negotiations but didn't reach an agreement, a Canadian government official said, speaking on condition of they not be identified. Talks are ongoing and full negotiations could still be launched before Trudeau's trip concludes Thursday, the official said.
Trudeau's team "is trying to thread the communications needle on trade for domestic audiences and is confusing our trading partners," Mark Warner, a Toronto-based trade lawyer with MAAW Law, said by email.
'The Objective'
Canadian officials had hedged their bets in the days before the trip. Champagne said they had "yet to make a decision," though Innovation Minister Navdeep Bains told Global TV on Sunday that launching formal talks was "the objective." Both ministers accompanied Trudeau to China.
After his meeting with Li late Monday, Trudeau said that Canada would only proceed if it had "confidence that what we start, we're going to be able to complete." He said Canada was "committed" to its progressive trade agenda, and that China considered the issue a precedent case, while downplaying what the sticking point was. "There wasn't one specific issue," he said.

Plans changed several times Monday at the Great Hall of the People. Chinese officials tried to block access by Canadian journalists, who were initially told the leaders would take questions before Trudeau's aides told them that would no longer be the case as the countries haggled over the format. The two leaders eventually emerged and spoke.
They agreed on the need to "uphold global trade liberalization" and would continue exploratory talks and "feasibility studies" on a full free trade agreement, Li said. "China is open to such talks," he said, adding: "It is only natural that we don't see eye-to-eye on some issues."
David Mulroney, a former Canadian ambassador to China, said the Chinese were probably very surprised. "I think this was a loss of face for the Chinese premier," he said in an interview with the Canadian Broadcasting Corp. that aired Monday.
"It is surprising that we got this far and came out with so little," Mulroney said. "As long as the prime minister's in Beijing, there's a chance a rabbit could be pulled out of the hat, although I think it's unlikely."
What Now?
It was a puzzling development for Trudeau, who is the first Canadian prime minister to visit China in back-to-back years. A separate government official said on the condition of anonymity that it wasn't Canada's demands for "progressive" elements that were holding up FTA talks. Instead, the countries wanted to be sure they could finish anything they started, the official said.
The path forward is unclear. Champagne has said any trade deal with China, should talks be launched, will take time to complete. Meanwhile, another trade deal meant in part to challenge China's clout -- the TPP, whose recent re-brand as the "Comprehensive and Progressive" TPP has Canadian fingerprints on it -- remains in negotiation. "More work needs to be done on some outstanding issues," Champagne said in his written statement.
Warner, the trade lawyer, fears fallout from Monday. 
"The government is going to have to decide whether they want to start with China and finish with Japan on the basis of what is doable now or whether they want to hold out for more while stalling for time on Nafta," he said. "They are going to have to be clearer to trading partners or this is going to keep happening and each time that it does they will lose some credibility."
— With assistance by Peter Martin
Before it's here, it's on the Bloomberg Terminal.
LEARN MORE