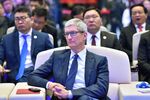 Tim Cook is desperate to hold onto any remaining scraps of the China market. That's a boon for the country's model for the internet, and the local players who dominate.
The Apple Inc. CEO, who last year stood up to the U.S. Federal Bureau of Investigation, took to the stage at China's annual internet conference this past weekend to kiss the ring and give his seal of approval for the way the government there tightly controls the flow of information.
"The theme of this conference -- developing a digital economy for openness and shared benefits -- is a vision we at Apple share," Cook said. "We are proud to have worked alongside many of our partners in China to help build a community that will join a common future in cyberspace."
Ren Zhengfei, Robin Li and Pony Ma ought to have been grinning like Cheshire cats. The chiefs of Huawei Technologies Co. 1 , Baidu Inc. and Tencent Holdings Ltd. have been great beneficiaries of Chinese censorship. Restricting the flow of information, you see, has worked out to be a handy little tool of trade protectionism.

The three Chinese companies have not only embraced domestic rules but actively assisted in enforcing them. Google Inc., on the other hand, famously withdrew from China after it decided not to comply with censorship rules, Facebook Inc. has been restricted from the start, while Apple has faced formidable headwinds from government and semi-government agencies. 
Openness, shared benefits, common future? Huh?
I wasn't at the speech, but footage does not show Cook's tongue in his cheek. It's irrelevant whether he believes the words that he spoke. What matters is that landing major overseas CEOs -- including Google's Sundar Pichai and Cisco Systems Inc.'s Chuck Robbins -- not only gave legitimacy to authorities, but sent a signal to domestic rivals that their turf is safe. There's no sign that Facebook founder Mark Zuckerberg attended the conference, but his embrace of The Chinese Way is well documented.

Take Baidu. Revenue and profit have rebounded this year despite its search business model facing existential threats ranging from regulation to changing user behavior. That's because Baidu faces no credible competition in China, and derives negligible revenue from overseas. 
Huawei, whose Western competitors ought to include Apple and Cisco, not only has home ground advantage in China but gets favorable treatment from government-backed telcos for its equipment and handsets, and is probably a recipient of Chinese foreign aid that's channeled back into network infrastructure built by the company.
The greatest winner of all is Tencent. The social media giant has its tentacles throughout all aspects of Chinese culture, yet barely exists outside of the Great Firewall. And why should it? Although China may soon reach peak WeChat, the company is leveraging its user base by adding more services such as payments and ads -- safe in the knowledge that neither Facebook nor Google are coming anytime soon.

Google, Facebook and even Cisco could thrive even if they didn't bother too much with the world's second-largest economy. But Cook's Apple is a little different. Huawei is coming for it, and so too is ZTE Corp., not just in the U.S. but globally. Apple derives almost 60 percent of its revenue from outside its home country, including close to 20 percent from China.
That's why it's so notable that the chief of a U.S. devices maker agreed to deliver a keynote speech at a Chinese internet conference: Information may be restricted, but hardware still roams free. For now.
Before it's here, it's on the Bloomberg Terminal.
LEARN MORE