HNA's Units Are on a Borrowing Spree, Swallowing High Rates
Bloomberg News
Yunnan Lucky Air sells bonds at its highest coupon rate ever

Frequent fund-raising suggests need for money: Bondcritic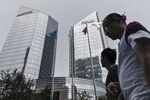 Units of HNA Group Co. are stepping up fundraising in the local bond market even as borrowing costs soar, adding to concerns about the Chinese conglomerate's debt burden.
Yunnan Lucky Air Co., a unit of Hainan Airlines Holding Co. -- HNA's flag carrier -- sold a 270-day yuan bond to yield 8.2 percent last week, the highest coupon rate ever for the Yunnan airline. Tianjin Airlines Co., another subsidiary of Hainan Airlines, issued similar-maturity notes at the highest coupon rate in five years in November.
While surging onshore bond yields last month forced Chinese companies to cancel the most bond offerings since April, HNA's units didn't slow their pace of financing. They revived debt sales from November, following a lull after news emerged in June about a crackdown by China's banking regulator. The accelerated fundraising suggests a need for money and may hurt the conglomerate's credit profile, according to credit research firm Bondcritic Ltd.
"They just keep piling on debt," said Warut Promboon, managing partner at Bondcritic. "It's not going to work."

Hainan Airlines said last week that it is planning to sell 1 billion yuan of perpetual bonds on Dec. 6. That would be its third note sale in the local Chinese market in a month, according to Bloomberg-compiled data.
In the carrier's most recent sale of onshore securities last month, the company, which has top ratings from local credit assessors, issued local bonds at yields equivalent to junk notes in the nation.
"The planned sale of perpetual bonds this month will help improve our financial structure," Hainan Airlines said on Monday in reply to questions. "The multi-channel funding and bond financings are mainly used to facilitate the company's internationalization, capacity development and development of new routes, which will support the company's business development and increase awareness of the company."
S&P Global Ratings said last week it had lowered HNA Group's credit profile by one notch to "b," or five levels below investment grade, citing the company's significant debt maturities over the next several years and rising finance costs.
Read more about S&P's views here
HNA's interest expenses more than doubled to a record 15.6 billion yuan ($2.4 billion) in the first half from a year earlier. Its short-term debt expanded to 185.2 billion yuan, exceeding its cash-pile.
Another HNA unit, Sanya Phoenix International Airport Co., has sold a 270-day security at a yield of 7.5 percent.
HNA Group Chief Executive Officer Adam Tan said last week the Chinese conglomerate is considering selling assets, suggesting the company is reversing a shopping spree that cost tens of billions of dollars and strained its finances.
"Each of our business groups has its own cash flow management," Tan said in a media gathering.
— With assistance by Judy Chen, Denise Wee, and Dong Lyu
Before it's here, it's on the Bloomberg Terminal.
LEARN MORE