Beijing's Migrant Clear-Out May Hit Growth and Fuel Inflation
Bloomberg News
Campaign risks higher prices, lower potential growth: Report

Bloomberg Economics probes economic impact of city's evictions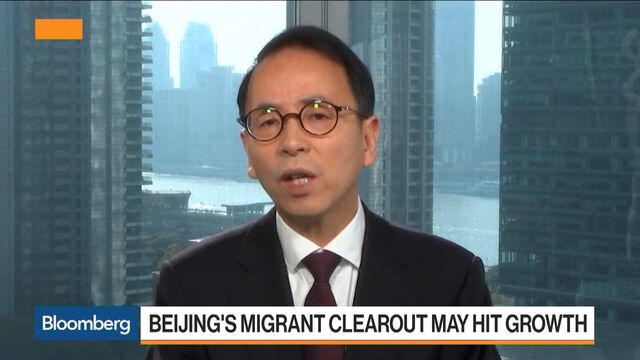 A campaign by the authorities in Beijing to clear out homes and businesses used by the poorest of the city's eight million migrants from throughout China has set off a chain of events that could shrink the workforce, dent potential growth and generate inflation.
That's the conclusion of research published Monday by Bloomberg Economics analysts Tom Orlik and Qian Wan in Beijing. It's supported also by evidence gathered from the delivery drivers, shopkeepers and consumers whom the evictions directly affect.
The recent crackdown is an acceleration of an ongoing campaign to cap the population of the mega-city of 22 million, and has unleashed an unusually strong online reaction with citizens enraged at the bluntness of the approach. It has left homes and offices in areas like Huaxingboda in southern Beijing empty and strewn with trash, and tens of thousands of workers either frantically searching for new -- and more expensive -- space, or on their way out of the city altogether.
As China seeks to wean itself off the investment and export-led growth strategy that it has employed in recent decades and onto a more consumption-led model while working down its mountain of debt, the clearing out strategy seems to strike in an opposite direction.
Click here for the full story on how a fatal fire started the eviction campaign
"Writ large, policies that prevent China's 180 million migrant workers from making a permanent home in major cities compound the problem of a dwindling working-age population, pushing China further from a sustainable growth trajectory," Orlik and Wan wrote in the research report.

Here are some of the detailed conclusions:
Beijing needs its migrant worker population -- as just 40 percent of the native population is between ages 25 and 54, whereas 62.6 percent of the migrant workforce falls into that bracket.
Migrant workers are, in economic terms, taking their labor where its productivity is highest. Rural migrants from Heilongjiang province, for instance, can expect an average wage of 81,100 yuan ($12,250) a year in Beijing against a local salary of 48,900 yuan -- a 66 percent jump.
Even so, migrant workers are still a cheaper source of labor than Beijing locals, and by shrinking that pool the authorities are pushing price hikes into sectors like household services, construction, and the restaurant and hotel industries. China's core inflation is running at a six-year high.
City authorities say this isn't about driving out low-income residents, but the removal of illegal and unsafe structures and living practices, according to an unnamed municipal government official who spoke to Beijing News last week.
Three Days
But by evicting the tenants of informal housing on such a wide scale, the authorities are prompting a brutal sorting-out of migrant workers who can afford the rent hikes in the new, squeezed market from those who aren't making enough to stay.
Whether to stay in Beijing is the question now facing Yin Zhixiang, a 37-year-old delivery driver from Inner Mongolia who was given three days notice last week to quit his lodgings. Four of his eight roommates have already left for their hometowns and Yin is considering doing the same.
"I don't know where I will be tomorrow, maybe I'll go home as the others," he said on the eve of his eviction. "It's really hard to find a place to live now."
Long Queue
Even though he hasn't been directly evicted, Wang Gaofeng, a courier for food-delivery app Baidu Waimai is on the receiving end of the shock-waves passing through the lower end of the property rental market. He and his wife live in a 10-square-meter room in a traditional courtyard house near Fuchengmen in the west of the city. His landlord has just raised the rent from 4,000 yuan per quarter to 5,500 yuan.
"My landlord just told me if I don't want to keep renting, there is a long queue waiting to get in," he said. "I will see if I can make it to the year-end. Otherwise we may also leave. The rent is too high."
At the Huaxingboda Commercial and Cultural Park in the south of the city, the activity of a cluster of small companies has been extinguished. A large plaque inscribed "Beijing Rui Yi Cheng Technology Co. Ltd" was leaning against the wall of an emptied room. There is an eviction notice issued by local authorities on another locked door and above it a paper sign reads "Moving Out."
The Beijing evictions haven't spread to other cities yet and indeed smaller cities are still welcoming rural migrants where they have easier access to local resident status, Orlik and Wan write. But as China's growth-rates slow, productivity will become a more important factor determining outcomes for the world's second-largest economy.
"The signal sent by the nation's capital is not a positive one," they wrote. "The growth-maximizing goal of free movement of labor remains distant and, as the Beijing clearance shows, policy is shifting in the wrong direction."
— With assistance by Miao Han, Tom Mackenzie, and Yan Zhang
Before it's here, it's on the Bloomberg Terminal.
LEARN MORE