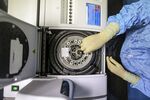 There are plenty of grim takes on the future of the pharma industry, and I've offered some of them.
But perhaps none have been quite as dire as a recent analysis from Novartis AG executive Kelvin Stott, which makes the minor claim that the biopharma business model is fatally flawed and doomed to terminal decline. He may have a point.
The fundamentals of Stott's argument are pretty simple and hard to dispute. At its core, pharma involves plowing money into R&D and collecting profits from successful drugs. But those research efforts are subject to the law of diminishing returns -- they're getting more expensive and less profitable over time. 
There are many reasons for that, including rising clinical trial cost and complexity, higher failure rates, and pressure from payers. But all of those are symptoms of a more basic issue: A lot of the low-hanging drug-development fruit has already been picked.
Pharma has understandably prioritized the biggest, easiest, and cheapest opportunities. As a result, there are a lot of good medicines already out there, and many are available as cheap generics or soon will be.
Drugmakers now must spend more and work harder to make even incremental improvements on the current standard of care. More and more companies are avoiding big and heavily researched disease areas and moving to smaller, more difficult, and inherently less valuable niches such as rare diseases. Or they're just duplicating each other's efforts.
More money is being spent for lesser results, or on less-productive activities such as advertising in crowded drug classes. Regeneron Pharmaceuticals Inc. Chief Scientific Officer George Yancopoulos griped about that Thursday at a Forbes Health Care conference, noting there were only three first-in-class drugs approved by the FDA last year in big disease areas out of 23 total new drug approvals.
Of course, Yancopoulos has a firsthand example of why companies are cautious. Regeneron's next-generation cholesterol drug Praluent has been utterly unable to gain traction in a very mature market. 
As R&D spending gets less profitable, there's less profit to spend on R&D, and you get a vicious cycle of decline. Stott believes the inflection point for terminal decline could be as soon as 2020, based on his analysis (which is worth reading in full) of current trends in R&D productivity. 
This would have major consequences for investors and pharma firms. The next generation of medicines may be chronically less profitable than the preceding one, and sale expectations may be much too high. Big biopharma in general may struggle to deliver the growth and profitability investors have enjoyed in the past. 
One possible solution could be to explore new and more complex technologies, such as cell and gene therapy, with the potential to deliver better results. But any such transition is barely in its infancy, and these new techniques may not be able to support the pharma ecosystem that currently exists; potentially curative one-time treatments present tricky commercial dilemmas. 
It will take several years to determine if Stott is right; and if he is, then it will take still more years to determine the rate of decline. But it may not be too early to start preparing.  
Before it's here, it's on the Bloomberg Terminal.
LEARN MORE