May Tells Trump Publicly: Retweeting 'Hateful' Group Is 'Wrong'
By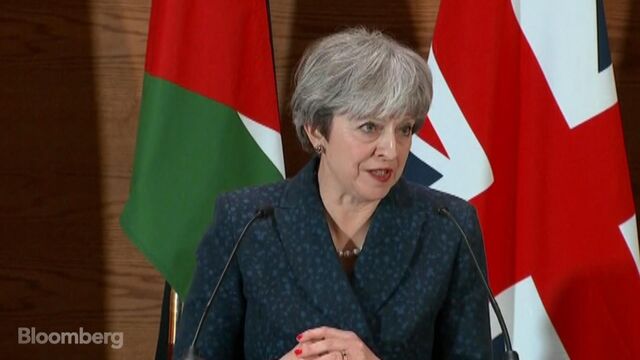 After getting rebuked by Donald Trump, Prime Minister Theresa May said publicly in a news conference that U.S. president was wrong to post on social media unverified posts by a far-right anti-Muslim British activist.
"I'm very clear that retweeting from Britain First was the wrong thing to do," May said after a speech in Amman, the Jordanian capital where she was bombarded with questions on her relationship with Trump. "Britain First is a hateful organization, it seeks to spread division and distrust amongst our communities."
A diplomatic spat escalated overnight when Trump tweeted May should mind her own business after her spokesman reproached his promotion of an anti-Muslim group. The incident puts her in an uncomfortable position vis a vis a historic ally with whom the U.K. has a "special relationship" but whose leader more often than not has caused her embarrassment.
Trump's latest foray on social media undermines her effort to project British influence during a three-day tour of the Middle East. The nature of the controversy was all the more awkward because she is visiting three predominantly Muslim allied countries, which she views as key to the fight against Islamic State and the spread of fundamentalist terrorism.
"This is a long term special relationship that we have, it's an enduring relationship that is there because it is in both of our national interests," May said. "I am clear that that relationship should continue."
It's not the first time the relationship has been rocky since Trump came to power in January. While May was the first foreign visitor to see him in Washington after his inauguration, even holding his hand in the grounds of the White House, the idyll didn't last.
His Muslim travel ban announced shortly afterwards put May, who was in Turkey when it was announced, in a tough spot. Later in May -- as both were headed to NATO and then the Group of Seven -- the British leader was peeved by intelligence leaks by U.S. officials following the the Manchester bombing.
The problem is that as Britain is getting ready to depart the European Union, it needs the U.S. more than ever. Part of the government's strategy is to say that with Brexit the U.K. can embark on a series of free trade agreements with major powers. Getting the deal with the U.S. off the ground -- and soon -- is a key part of May's plan.
Back home, there is a growing chorus of lawmakers across the political spectrum who are adamant an invitation to come visit the Queen should be rescinded. "An invitation for a state visit has been extended and has been accepted," May said before adding that no date has yet been set.
"I have previously called on Theresa May to cancel her ill-judged offer of a state visit to President Trump," London Mayor Sadiq Khan said in a statement released by office. "After this latest incident, it is increasingly clear that any official visit at all from President Trump to Britain would not be welcomed."
Before it's here, it's on the Bloomberg Terminal.
LEARN MORE