Kroger Surges the Most Since 1993
By
Share gains follows comparable sales that beat estimates

CEO says the company will maintain momentum into next year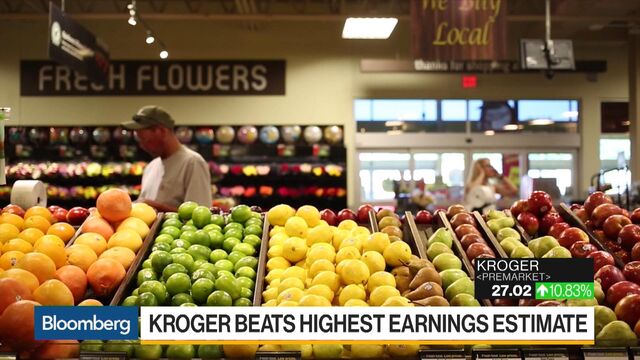 Kroger Co. is finding its stride, even as competition heats up in the cutthroat grocery industry.
Shares of the grocer, battered for months by pessimism after Amazon.com Inc. pushed into the fiercely competitive industry, jumped as much as 14 percent -- the most in almost 25 years -- after the company posted same-store sales that beat estimates. Kroger also sees sales growth continuing in the fourth quarter.
"You're seeing their strategy start to pay dividends," said Jennifer Bartashus, an analyst at Bloomberg Intelligence. "The stock has really been impacted by the perception of other companies, rather than the performance of Kroger itself."

The grocery industry has long been known for razor-thin margins and tough competition. That pressure has ramped up since Amazon took over Whole Foods Market Inc., a deal that cast doubt on traditional grocers' ability to fend off competition.
Kroger has insisted that it has the scale and industry expertise to boost sales, even as more customers buy food outside of brick-and-mortar stores. But the company is also grappling with a resurgent Wal-Mart and the rise of discount chains that are undercutting on price.
Even so, Kroger's same-store sales rose 1.1 percent in the third quarter, its second consecutive quarter of growth. Analysts had estimated 0.9 percent. The company said it expects the key metric to rise even more in the fourth quarter. Kroger had posted two straight quarters of negative same-store sales earlier this year, its worst slump in at least 13 years.
The shares jumped to as high as $27.70 -- erasing a good chunk of the stock's 29 percent decline this year through the close of trading on Wednesday. It reached the highest intraday price for the stock since June 14, two days before Amazon announced that it agreed to buy Whole Foods.
Kroger pared its gains later in the session, but the stock remained up 8.2 percent at midday in New York, marking the biggest gain in more than eight years.
Kroger has argued that the market reaction to the Amazon news was overblown. Chief Executive Officer Rodney McMullen said on Thursday that the quarterly results -- and the subsequent stock surge -- were a sign that the company's strategy is gaining steam.
"I don't think of it in terms of being vindicated, I think of it as our responsibility to our shareholders," he said in an interview. "I feel very good when you look at our overall strategy. We're not satisfied where we are, and we'll keep pushing to get better."
As more customers buy food online, e-commerce will be a key area of growth for the grocery industry, according to Bartashus. Kroger's digital revenue more than doubled in the quarter, and while the rise came off of a small base, it shows the company has a chance to compete with Amazon and Wal-Mart.
"That's where you'll see a lion share of the growth," she said. "The results show Kroger is poised to take a good share of that."
Before it's here, it's on the Bloomberg Terminal.
LEARN MORE