Groucho Marx, Michael Flynn and a Sanctions Trial's Lighter Side
By and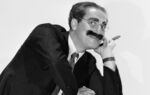 A money-laundering trial that started in Manhattan this week could deal a serious blow to Turkish-U.S. relations. Little wonder, then, that lawyers are grasping for moments of levity.
Groucho Marx and even ex-national security adviser Michael Flynn were among the apparent punchlines when prosecutors, defense lawyers and a federal judge huddled Wednesday morning before testimony in the trial of a Turkish banker.
According to a court transcript, defense lawyers worried that jurors may have already seen and read about the government's star witness, Turkish-Iranian trader Reza Zarrab. Zarrab was initially a defendant in the case. NBC News has reported that the U.S. special counsel is looking into whether Flynn, then a Trump adviser, may have tried to get Zarrab sprung from U.S. custody. 
Zarrab Takes Jury on Trip Through a Sanctions-Evasion Plot
"There's so much press from so many different angles," defense lawyer Cathy Ann Fleming told the judge. "Now it's about Flynn and what Zarrab is doing with Flynn."
"Are you calling him?" the judge asked about Flynn.
"I will say that I don't anticipate any testimony about Michael Flynn," a prosecutor responded.
"You never know," Fleming said. "We may issue a subpoena for him."
"If we're here long enough," added a second defense attorney.
Asked about the exchange on Thursday, lawyers involved in the conversation said it was meant as humor and that Flynn isn't expected as a witness.
The discussion moved to the challenges of translating from Turkish. Fleming, saying she wanted to caution the jury about ambiguous sentences, suggested she could play them one of Groucho's famous quips: "One morning I shot an elephant in my pajamas. How he got into my pajamas, I'll never know."
"I'll ask the marshals what they think about that," the judge said.
Before it's here, it's on the Bloomberg Terminal.
LEARN MORE