GoFundMe Will No Longer Take a Cut of Some Donations
The fundraising platform is moving to voluntary tips for personal campaigns.
By and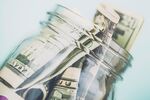 GoFundMe, an online fundraising platform, will now offer its services fee-free for new personal crowdfunding campaigns in the U.S., the company announced in a statement on Thursday.
Currently, GoFundMe takes 5 percent of donations, and payment processors take 2.9 percent, along with 30 cents per donation. Under the new structure, the processing fees remain, but GoFundMe will no longer charge a fee for personal fundraising efforts in the U.S. Such campaigns make up the majority of activities on the site, according to the company.
Users will instead have the option to give the company a voluntary tip. The entire donation will go to the beneficiary of a campaign, but a drop-down menu will let those donating add 5 percent, 10 percent, or 15 percent on top of their donation, or a custom amount.
"GoFundMe is always looking for ways to make fundraising easier, faster, and more successful, and this time of year made perfect sense for introducing this pricing structure," Rob Solomon, GoFundMe's chief executive officer, said in a statement. "With this 0% platform fee, we will rely on voluntary tips from our donors to help with the costs associated with providing our best-in-class customer service, trust & safety protections, and social fundraising technology."
GoFundMe has previously been criticized for taking a fee from donation campaigns. Following the California wildfires earlier this year, a petition was launched urging the company to exempt those impacted seeking to raise funds from paying the fee. 
"We are confident that our community finds value in the services we provide and will want to help us maintain and improve our free platform so even more people can get immediate, direct support,"  a company spokesperson said. 
Before it's here, it's on the Bloomberg Terminal.
LEARN MORE