Pelosi, Ryan Call on Conyers to Quit After Sex-Harassment Claims
James Rowley (Bloomberg Government) and Arit John
House Democratic leader says women 'are owed justice'

Conyers's lawyer says his future is 'not up to Nancy Pelosi'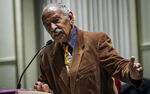 House Democratic leader Nancy Pelosi and House Speaker Paul Ryan called on Representative John Conyers to resign amid allegations that he sexually harassed members of his staff.
"The allegations against Congressman Conyers, as we have learned more since Sunday, are serious, disappointing and very credible,'' Pelosi of California told reporters Thursday. "It's very sad. The brave women who came forward are owed justice. I pray for Congressman Conyers and his family; however, Congressman Conyers should resign."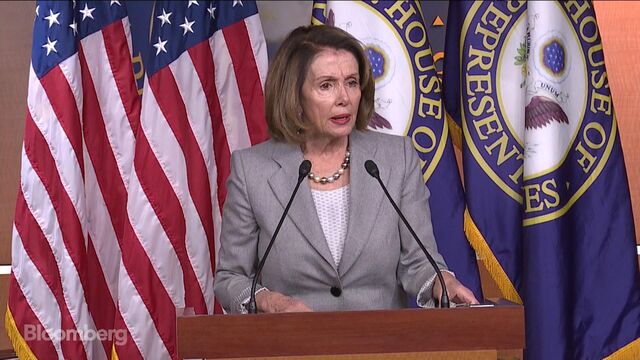 Minutes later, Ryan of Wisconsin told reporters at a news conference, "He should resign and I think he should immediately."
Second-ranking House Democrat Steny Hoyer of Maryland and No. 3 Democrat James Clyburn of South Carolina also said Conyers should quit.
Conyers, 88, of Michigan the longest serving House member, has acknowledged reaching a $27,000 settlement with a former staffer but denied her claim that she was fired for rejecting his sexual advances. Since then, he also has been accused of harassment by two other former staff members.
His lawyer, Arnold Reed, told reporters in Detroit Thursday, "It is not up to Nancy Pelosi. Nancy Pelosi did not elect the congressman and she sure as hell won't be the one to tell the congressman to leave." The lawyer said Conyers will decide on his future, but the decision won't come Thursday or Friday because the lawmaker has been hospitalized for dizziness, shortness of breath and lightheadedness.
Reed also questioned why Conyers is being urged to resign while there's been little such pressure on Democratic Senator Al Franken of Minnesota, who also has been accused of sexual misconduct.
"Nancy Pelosi is going to have to explain what is the discernible difference between Al Franken and John Conyers," Reed said. He also said the situation with members of Congress is different from corporate actions such as NBC's swift firing of "Today" host Matt Lauer. "Congress works differently. You just cannot fire somebody without going through the proper channels," Reed said.
The House Ethics Committee is looking into Conyers's actions, while Franken has asked the Senate Ethics Committee to examine his behavior.
Conyers stepped down from his position as the top Democrat on the House Judiciary Committee on Sunday.
On Thursday, former Conyers staffer Marion Brown said on NBC's "Today" show that she reached a settlement with Conyers in 2015 after being fired a year earlier. She said he "violated my body" and demanded sex. Brown said she decided to come forward publicly, although her settlement included a non-disclosure agreement, after Conyers denied the allegations.
Separately, Republican Representative Joe Barton of Texas announced Thursday that he won't seek re-election, a week after a nude photo of himself and graphic text message surfaced on the Internet. Barton, 68, apologized last week and said he had sexual relationships with other women while he was separated from his wife.
— With assistance by Billy House, and Anna Edgerton
Before it's here, it's on the Bloomberg Terminal.
LEARN MORE