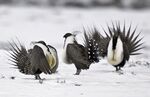 Agee Smith's Cottonwood Ranch is tucked away in rural Nevada, about 450 miles from Las Vegas and not far from the Idaho border. The area is prime habitat for the greater sage grouse, an imperiled bird found in 11 western states. The male grouse is known for his eccentric mating dance—involving strutting, chest puffing and the inflation of two yellow air sacs on his neck.
Over the past two years, Smith worked to improve areas that are crucial habitats for sage grouse. He has planted sagebrush and improved the grass density in his meadows. If a new conservation method works as planned, Smith could make some money off his work.
Nevada, along with Colorado and Wyoming, has been working to create statewide markets for the conservation of the bird. In the simplest terms, these markets let developers—mining and energy companies, mainly—offset their impact on sage grouse by purchasing "credits" from ranchers who conserve an equal amount of habitat. It's like cap-and-trade for conservation. Nevada is so far the only state to open its exchange, with the first transaction occurring on Nov. 9.
In most cases, each buyer and seller will negotiate a price. Not all acreage has the same value to sage grouse, so the credit system created a standard unit for habitat. Each credit is worth one "functional" acre  of habitat, which takes into consideration the land's quality and function in the bird's routine. The Nevada Department of Conservation and Natural Resources will oversee the market, known as the Conservation Credit System, and its primary role will be to verify and release credits.
Nevada is launching its market during a time of great uncertainty for the sage grouse. In 2015, a complex compromise designed to prevent the bird from being listed under the Endangered Species Act was reached among governors, industry groups and environmentalists. Such a listing, policymakers and developers feared, would have resulted in more regulations and further constraints on economic activity in the region. However, the Trump administration recently announced it would reexamine that deal, leaving state officials across the West concerned that any changes could undercut the agreement.
State officials argue that the market incentivizes efficient conservation and provides certainty to companies that have to mitigate their impact on sage grouse. Mitigation is often done on a case-by-case basis, which can produce subjective results. By quantifying the habitat, the market gives wildlife managers a more precise way to balance lost habitat with conservation gains.  
"We've built a system that works, regardless of where the federal agencies are in revisiting their land-use plans," said Jim Lawrence, deputy director of the state's natural resources department.
"There's real benefit to both industry and private landowners," said Kelly McGowan, the program director for Nevada's market. "For industry, it gives them some level of assurance." The state, meanwhile, gets a clear accounting of the health of the sage grouse habitat.
Brian Rutledge, vice president of the Audubon Society and director of the Sagebrush Ecosystem Initiative, said he's hopeful the markets are successful, but said they have a long way to go.  He said it might be easier to set up a market in Nevada, where the primary extractive industry is mining. Because its impacts are less contained, Rutledge said, "gas and oil has been a very different challenge."
But the biggest question is whether there will be strong enough demand for the credits. Developers are not required to use the market. And ranchers such as Smith are worried that industry heavyweights might acquire credits generated on their own land instead of purchasing from them. In fact, the first market transaction followed this formula, which could be replicated. Barrick Gold Corp. and Newmont Mining Corp., for example, operate ranches in Nevada and have applied to put credits on the exchange.
State officials are confident demand will be there. There are about 40,000 credits in the pipeline, and since the first transaction of 2,514 credits, they claim interest has already started to ramp up. "We've received several phone calls on the industry side," Lawrence said.
In July, Nevada was the first state to offer Smith's credits, along with credits generated at a nearby ranch. So far, he hasn't received any calls from developers looking to buy.
Smith hopes this will change as companies see competitors using the market. "This coming year is going to be a make-or-break year," he said.
Before it's here, it's on the Bloomberg Terminal.
LEARN MORE