Balance of Power: Trump Rattles the Special Relationship
By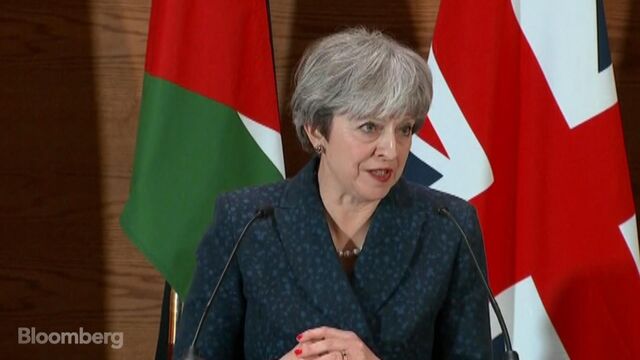 Theresa May has been reminded how uncomfortable it can be to rely on Donald Trump.
It's a lesson that congressional Republicans learned the hard way in September when the U.S. president abandoned them to strike a debt-limit deal with Democrats and one that members of his team — most notably Attorney General Jeff Sessions, who he's publicly trashed — are loath to forget.
The U.K. prime minister was in the Middle East when Trump started tweeting anti-Muslim propaganda videos from a British extremist group to his 44 million followers. The move put May in the awkward spot of having to condemn comments made by her close global ally, prompting Trump to publicly tell her to mind her own business.
London Mayor Sadiq Khan, who has long feuded with Trump, renewed his calls for the president's planned visit to the U.K. to be cancelled, saying any state trip by Trump would not be welcomed. And lawmakers off all stripes condemned the tweets today in Parliament.
The spat does little to reassure those banking on the president's pledge of a "very big and exciting" trade deal to underpin the U.K. economy after Brexit. Or those counting on the "special relationship" carrying weight in the Trump-May era.

Sign up to receive the Balance of Power newsletter in your inbox, and follow Bloomberg Politics on Twitter and Facebook for more.
Global Headlines
Republican tax bill haters | Ahead of a Senate floor vote that could sink Trump's hopes for a legislative accomplishment during his first year in office, Sahil Kapur details the various aspects of the current tax proposal that Republican leaders want members to hold their noses and support. Click here for the latest state of play.
North Korea's sanctions busters | Pyongyang's $100 million small-arms trade with several African states highlights one of the most intractable roadblocks to U.S. efforts to pressure Kim Jong Un: many nations ignore existing sanctions as they don't see North Korea as a threat to their national security. U.S. Ambassador Nikki Haley raised the issue at the United Nations yesterday before warning China to cut off petroleum exports to its neighbor or the U.S. would "take the oil situation into our own hands."
Pakistan hits back at U.S.| Prime Minister Shahid Khaqan Abbasi rejected Trump's accusations his country gives sanctuary to militants and said Pakistan is working to curb attacks that originate in neighboring Afghanistan. "It's our war, not theirs," he told Ismail Dilawar and Chris Kay. Abbasi's government has been shaken by weeks of protests by hard-line religious groups over changes to a reference to the Prophet Muhammad in a lawmakers' oath and by renewed U.S. criticism over a court's release of accused terrorist Hafiz Saeed.
Sessions under fire | The attorney general faces a grilling today from fellow Republicans on the House Intelligence Committee over what they see as his stonewalling of their subpoenas for details on the genesis of the FBI's Russia meddling investigation. The private session follows a CNN report that Trump son-in-law Jared Kushner met earlier this month with Special Counsel Robert Mueller's team to discuss former National Security Adviser Michael Flynn.
May's Brexit bill | The British premier will sit down on Monday to what could turn out to be the most expensive meal in history, Tim Ross reports. Her lunch date in Brussels will be Jean-Claude Juncker, who as European Commission president has a powerful role in determining progress toward an exit deal. After seasonal dishes and vintage wines, he'll ask her to pick up a 60-billion euro Brexit tab.
And finally... Among the most unlikely repercussions from the allegations of sexual harassment against former "Today Show" anchor Matt Lauer is a threat to a New Zealand land deal. The country's overseas investment agency is reviewing his company's $9 million purchase in February of a sprawling farm near the South Island resort town of Wanaka, more than 9,000 miles (15,000 kilometers) from Rockefeller Center. New Zealand law requires foreign buyers of sensitive land to meet several conditions and "continue to be of good character."

— With assistance by Kathleen Hunter, Brendan Scott, and Michael Winfrey
Before it's here, it's on the Bloomberg Terminal.
LEARN MORE