markets
Stocks Fall, Bonds Advance Amid Taxes, Flynn Plea: Markets Wrap
By and
S&P 500 Index sinks as Russia probe moves closer to president

American lawmakers work through night to salvage tax bill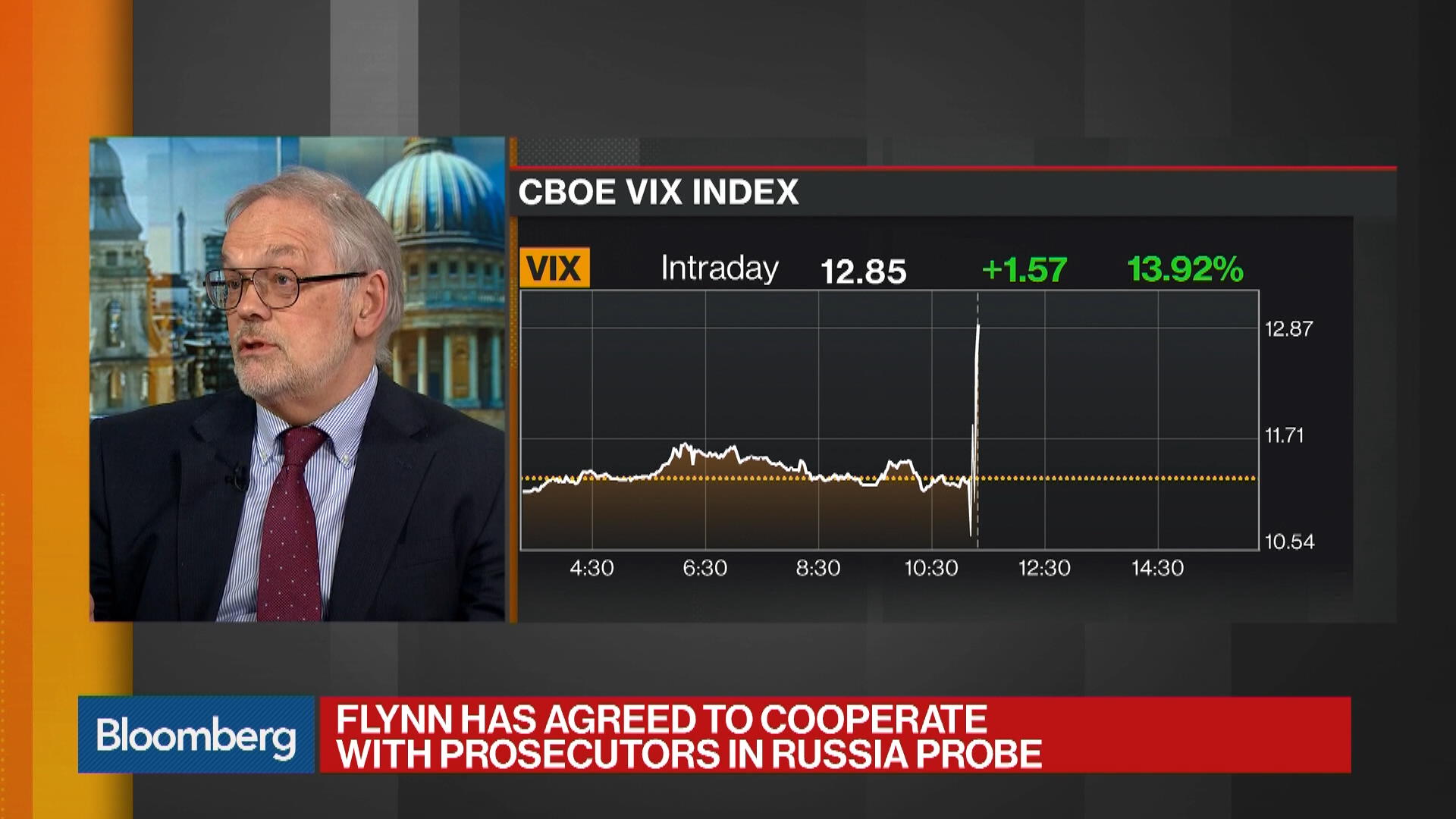 Financial markets turned defensive, with U.S. stocks sliding and Treasuries advancing with gold after Michael Flynn pleaded guilty to lying to federal agents. Equities rebounded from the worst of the losses as Senate Republicans edged closer to passing tax cuts.
The S&P 500 Index fell as much as 1.5 percent on news that Special Counsel Robert Mueller's investigation had pierced the White House inner circle. Equities clawed back more than half the plunge after the Senate said it had the votes to slash corporate taxes, finishing the day lower by 0.2 percent and notching the best weekly advance since early September. The 10-year Treasury yield fell five basis points Friday and Bloomberg's dollar index slid as investors flocked to the yen.

Haven assets surged after the former national security adviser agreed to provide cooperation, with the heaviest selling in equity coming after ABC News reported that Flynn would testify that Trump directed him to make contact with the Russians. Markets rallied this week, propelling the Dow Jones Industrial Average past 24,000, on speculation tax cuts will supercharge already strong economic growth. That narrative that took over in afternoon trading as stocks marched steadily higher to nearly erase the drop.
"For the first time in a long time, the political risks are starting to seep into the capital markets," Chris Harvey, head of equity strategy at Wells Fargo & Co. "There is some real possibility that Trump has some issues and the market is pricing in those issues today. That also seeps into taxes." 
Flynn's plea is a major step for Mueller's quickly advancing investigation. Mueller has already charged Trump's former campaign chairman Paul Manafort and his deputy over their earlier business activities, and secured a guilty plea from George Papadopoulos, a campaign adviser who pursued Russia's help during last year's election. Papadopoulos is cooperating with the probe.
[Click here for a Timeline of Michael Flynn's Role in the Russia Probe]
For much of the day the Flynn news overshadowed the Senate tax bill as it headed for a round of marathon votes, with the chance of passage remaining high even after leaders suspended voting yesterday after a key compromise to win a majority had collapsed.
"All of a sudden we get this news out and kind of have the rug jerked out from underneath the Trump Trade," Gary Bradshaw, a portfolio manager at Hodges Capital Management in Dallas, said by phone. "I'm going by the seat of my pants based on what I'm hearing but we've had this great rally in the market, and now we have this other issue. We've had the rug jerked out from underneath us."
Here's a look at what's ahead for markets in the coming days:
On Monday, Euro-area finance ministers discuss the future of the euro area, vote for a new president, and debate Greece's bailout review in Brussels.
The European Commission College of Commissioners discusses Brexit on Wednesday and will likely make its recommendation on whether sufficient progress has been made to move negotiations onto the future relationship.
The U.S. faces a partial government shutdown after money runs out on Dec. 8 if Congress can't agree on a spending bill by then.
U.S. employers probably hired at a robust pace in November as the unemployment rate held at an almost 17-year low. The Labor Department's jobs report next Friday may also show a bump up in average hourly earnings.
Countries setting monetary policy include Australia, Brazil, Canada, India and Poland.
These are the main moves in markets:
Stocks
The S&P 500 fell 0.2 percent at 4 p.m. in New York. It's rose 1.5 percent for the week, most since Sept. 15.
The Nasdaq 100 Index fell 0.4 percent, bringing its five-day slide to 1.1 percent.
The Russell 2000 Index of small caps fell 0.6 percent Friday.
The Stoxx Europe 600 Index sank 0.7 percent.
The MSCI Emerging Market Index fell 0.4 percent, falling for the fourth day in five.
Currencies
The Bloomberg Dollar Spot Index fell 0.3 percent, the first retreat in a week.
The euro was little changed at $1.1908.
The Japanese yen gained 0.4 percent to 112.095 per dollar.
Bonds
The yield on 10-year Treasuries fell five basis points to 2.36 percent.
Germany's 10-year yield decreased three basis points to 0.34 percent, the lowest in more than three weeks on the biggest tumble in five weeks.
Britain's 10-year yield sank 10 basis points to 1.23 percent, the largest tumble in more than four weeks.
Commodities
West Texas Intermediate crude advanced 1.7 percent to settle at $58.36 a barrel. Futures ended the week down 1 percent, the biggest loss since early October.
Gold futures rose 0.5 percent to $1,282.70 an ounce.
— With assistance by Randall Jensen
Before it's here, it's on the Bloomberg Terminal.
LEARN MORE