A November to Remember for South Africa's Resilient Bank Stocks
By
Index turns 10-month decline into a positive return in 2017

Shares advance 9% to within sight of April 2015 record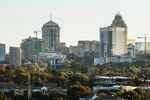 South African bank stocks are nothing if not resilient.
In November they have contended with news that South Africa's local-currency debt was downgraded to junk status for a second time this year, increasing their borrowing costs and piling further strain on an economy that slipped into recession in the first quarter. Instead of buckling under an increasingly negative outlook for 2018, bank stocks have reacted by recording their best month of gains since March last year.
The six-member index climbed more than 9 percent in November, after dropping 0.6 percent in the preceding 10 months. Not only did the gauge swing from losing ground to making gains, it also rose to within just 60 points of the all-time high set in April 2015. Back then, President Jacob Zuma was yet to fire his Finance Minister Nhlanhla Nene, prompting market turmoil, and the banks were showing steady growth in profit.

The rand's almost 4 percent rally this week, as global investors look past South Africa's domestic issues in pursuit of higher yielding assets, is positive for the banks, said Richard Hasson, a money manager at Electus Fund Managers in Cape Town. The stocks' valuation at 11 times forward earnings, compared with 15 times for the broader benchmark index has also attracted equity buyers.
South African bank stocks are cheap and they're solid too, according to Simon Brown, Johannesburg-based chief executive officer of trading company JustOneLap. With more capital on hand than regulators require, they're more stable than many lenders in developed countries.
Still, December could be tough. A fiercely contested battle for the leadership of the ruling African National Congress is just over two weeks away and may descend into chaos amid accusations of corruption and political infighting.
Before it's here, it's on the Bloomberg Terminal.
LEARN MORE