Yellen Says U.S. Expansion Widening as Financial Risks Muted
By and
Fed chair calls vulnerabilities in financial sector 'moderate'

Continues to see weak inflation readings as 'transitory'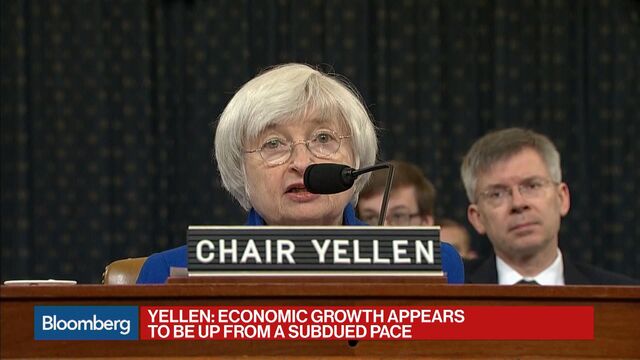 Federal Reserve Chair Janet Yellen, in what may be her final testimony to Congress as head of the central bank, described a steadily brightening picture for the U.S. economy while downplaying the risks of financial instability.
"The economic expansion is increasingly broad based across sectors as well as across much of the global economy,'' Yellen said in testimony to the bicameral Joint Economic Committee on Wednesday in Washington. "I expect that, with gradual adjustments in the stance of monetary policy, the economy will continue to expand and the job market will strengthen somewhat further, supporting faster growth in wages and incomes.''
Asked whether the Fed would raise interest rates at its meeting next month, Yellen declined to offer clues about her preference, saying only that it's important the central bank maintain a gradual approach to tightening to prevent the economy from overheating.
Yellen repeated that she expects the Fed to continue gradually raising interest rates and trimming its balance sheet. The central bank has raised the target range for the federal funds rate four times in the past two years.
Yellen's term as chair expires in early February, and President Donald Trump has nominated Fed Governor Jerome Powell to take her place. Powell is awaiting confirmation by the Senate. Yellen has announced she will leave the Fed once that happens.
With stocks trading at record highs, Yellen downplayed the threat of financial instability.
Well-Capitalized Banks
"Although asset valuations are high by historical standards, overall vulnerabilities in the financial sector appear moderate, as the banking system is well capitalized and broad measures of leverage and credit growth remain contained," she said.
A government report on Wednesday underscored how the economy is picking up steam. Gross domestic product expanded by 3.3 percent in the third quarter, faster than an initially reported 3 percent annualized pace, Commerce Department figures showed.
Drawing attention to the milestones of the post-crisis recovery, Yellen noted that 17 million more Americans were employed compared with eight years ago and unemployment had dropped to 4.1 percent, down from a crisis-era peak of 10 percent.
Her central accomplishment as chair came in engineering a slow, careful exit from the unconventional easing policies the Fed unleashed during the financial crisis and recession that followed.
Still, Yellen acknowledged that many Americans weren't benefiting as much as economist had expected.
"Despite these labor market gains, wage growth has remained relatively modest," she said.

Inflation has also bedeviled Fed officials, remaining surprisingly low in the face of a tightening labor market. While acknowledging that structural factors may be weighing down prices in a persistent manner, Yellen stuck by her expectation that inflation would gradually rebound to the Fed's 2 percent target.
"In my view, the recent lower readings on inflation likely reflect transitory factors," she said. "As these transitory factors fade, I anticipate that inflation will stabilize around 2 percent over the medium term."
The Fed's preferred gauge of inflation stood at 1.3 percent in the year through September, after excluding food and energy components.
Growth Issues
Yellen urged Congress to address the two issues undermining the potential for faster economic growth in the U.S.: the decline in the size of the U.S. workforce relative to population, and disappointing levels of productivity growth.
"Congress might consider policies that encourage business investment and capital formation, improve the nation's infrastructure, raise the quality of our educational system, and support innovation and the adoption of new technologies,'' Yellen said.
— With assistance by Craig Torres
Before it's here, it's on the Bloomberg Terminal.
LEARN MORE