Hernandez Takes Lead in Honduras Vote as Opponents Cry Fraud
By
Incumbent Hernandez marginally ahead in lastest vote counts

Bonds have fallen the most in emerging markets this week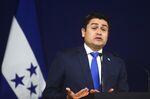 Honduras' pro-U.S. leader took the lead in the nation's presidential election as opposition supporters took to the streets to allege fraud and bonds extended their sell-off amid the potential for unrest.
President Juan Orlando Hernandez now leads opposition candidate Salvador Nasralla by 42.21 percent to 42.11 percent, with 83 percent of ballots counted. When the first votes were counted in the early hours of Monday, Nasralla was five percentage points ahead.
Honduran dollar bonds extended the biggest sell-off in emerging markets Wednesday as opposition supporters took to the streets to allege fraud. The nation's bonds due 2027 fell 0.2 percent, are are down 2.5 percent over the last week.
The bonds began to drop Monday as Nasralla confounded polls and took a surprise lead. Hernandez has been popular with foreign investors after slashing the fiscal deficit under an International Monetary Fund program.
"Many are concerned about the potential for violence in the coming days," said Adriana Beltran, an analyst at the Washington Office on Latin America. Delays by the electoral tribunal have "increased tensions, contributed to suspicions, and has done little to improve people's trust in the process", she said.
The electoral authority counted 58 percent of votes within nine hours of polls closing, then took a further 60 hours to reach the current level, leading opposition leaders to claim the government is trying to steal the election. Hernandez says he has an advantage in rural districts, which explains why he is closed the gap.

Nasralla called for supporters to take to the streets, and said in a post on Twitter that he won't recognize the results from the "cheating" electoral authority. Hernandez backers also marched through the capital, Tegucigalpa, on Wednesday, so far without major clashes being reported.
"If protests are sufficiently large that security forces feel they can't handle them peacefully then we could see violence," said Eurasia Group analyst Risa Grais-Targow. "Their mandate is to defend the TSE's official results so I would expect them to side with Hernandez."

U.S. State Department spokeswoman Heather Nauert urged election officials "to complete their work without undue delay" and called on both candidates to respect the results. Election officials said they'd give final results no later than Thursday.
Before it's here, it's on the Bloomberg Terminal.
LEARN MORE